A few days back we entered into a new year and a new phase of our lives. Leaving behind all our baggages of the year 2016, most of us made resolutions towards a positive lifestyle, making it a beautiful start. I was more thrilled to start this year in a more organized and patterned lifestyle. Many have influenced my life. For what I am now, or for what I do now, I owe to many and I keep getting inspiration from them too. Not only that, people in my day to day life, my domestic help too, has altered me so much. Her smart methods and quick working abilities amazes me to say the least.
With the little bundle of joy merrily going around flinging things, vessels and clothes all around the house, I had to force myself to adopt serious actions to make my living more orderly. Planning my day needed a serious change when things started going in an impromptu direction. I am still working on sorting my workflow, while I take inspiration from Marie Kondo's work "KonMari". There have been days when I felt like a superwoman, running in and out, finishing off my tasks and ending up with a neatly kept home. But equally there have been days when I've felt my life is totally out of my control.
Vinay, my other half, is a very adept to-do list person and executer of tasks. He stunningly uses the apps on his smartphone to make sure he doesn't forget anything. To my rescue he comes, sits and helps me a lot with planning my days. I sometimes get too agitated trying to follow his Professor type methods. But every time I ask him for a tip, he gives me enlightenment. ;) Whenever I need an accountability partner I always turn to him. With his mentoring skills he just sets everything straight for me.
Not all my intensions turn out to be successful though. Being a full – time mother sometimes takes me to a stage where I just want to fling my arms and rest on the couch. But believe me, motherhood has taught me so much, that I'm more mindful on spending my time rationally these days. Terrace Kitchen Gardening is a major priority now and I've resorted to making life a little better by growing food on the roof of my home. If you check my Instagram feed you'll see the fruit of our labour. :) I would start a garden series soon wherein I'll be sharing my experiences on growing vegetables at home. This and all was a short tenor to all my endeavors so far when I wasn't into actual writing.
Food Blogging wasn't a part of my to-do list till recently. I had kept this little nook locked up for a few months. A few days back, Arvind, a gifted friend of mine, an awesome poet, an innovative teacher and a vivid dreamer, wrote a little poem on dreams – ambitions and passed it to me to glance upon. It was an amazing piece of work indeed. I realized how much writing can relax your agitated and cluttered mind. It was a beautiful thing I understood. Thats when I sensed how much I missed writing. When I did start thinking on drafting a post, I was far away from the disposition of writing. I some how pulled out time from my crazy schedule, writing what you've been reading till now. Seemed like the whole world conspired me to write this little bit here. Thank you Arvind if you are reading this. :)
Today's post would be a simple recipe of Nendra Banana Jamun. This is one of my loved ways of savoring these delicious variety of fruit. We find Nendra Banana mostly in the coastal belts of Karnataka and Kerala. This is another crop other than the "Mattu Gulla" that has attained the GI tag. This fruit is a very good source of energy for toddlers. It is hard to find this variety of Banana always in my town Shimoga. But when we do, I generally make sure my little one eats one everyday when in stock. Down to the recipe of Nendra Banana Jamun. :)
Nendra Banana Jamun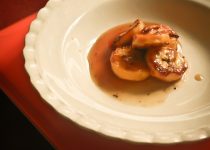 You can serve this as it is or you can try accompanying this with vanilla ice cream or just a simple whipped cream.
Prep Time: 15 minutes
Cook time: 15 minutes
Yield: 4-5
Ingredients:
Instructions:
Step 1: Wash and peel the skin of the ripened bananas.
Step 2: Cut the fruit into cylinders, 3/4 of an inch each (Check the image).
Step 3: Heat a pan and smear a generous amount of ghee.
Step 4: Shallow fry all the banana pieces on both sides (Smearing Ghee) till the color turns
golden.
Step 5: Once done, put in all the pieces to a bowl and add about 4 - 5 tablespoons of sugar. You can add more sugar for a more syrupy base.
Step 8: Close the bowl with a lid and keep aside for nearly an hour. The heat of the bananas will help in caramelizing the sugar and you get a lovely sweet tasting syrupy base.
Step 9: Serve warm immediately after and hour.