Potatoes have marveled all the dishes that contain them. Be it the aloo vada, potato palya that goes with dosas and puris, dum aloo, french fries, potato raitha, potato-onion sambhar that goes great with idlis and vadas, aloo tikki and so on, potatoes form the best recipes in the courses of meals. I still remember making those shallow fried potatoes as a starter for lunch during my college vacations.
Those were the days I cherish now. I hardly knew what motherhood was, and now, after a couple of years, I've birthed little Krishna who makes me see the world through his eyes. I'm learning something new at every milestone of his. Listening to his first few words Amma, Appa, Aho (For 'Hello') and Amba (For 'Cow') were some of my ecstatic moments. His recitation of Shlokas in the pooja room (in his own language, of course) which is an imitation of what his grand parents do during their everyday pooja, is a treat to watch.
On the flip side things go haywire at his meal times. His prolonged eating sessions puts my patience to test. Well, this is a realization for me as to how much my mother would have struggled to bring up two daughters during a time when there were not many sources of entertainment for children, be it, the television or the smart gadgets, nor there was the internet on which we mothers are so much dependent for every woe of ours. I'm not sure if its just me or its just isn't easy when you have children getting over exposed to gadgets and other privileges.
Amidst these motherhood woes its a challenge to pull out a little time for my love for writing, forgetting about all the mess surrounding me. To keep myself going there have been many sources of inspiration and also many active women in the blogosphere who have inspired me right from the time I started walking towards my love for writing and photography. It definitely is a time for me to acknowledge the positive energy I gained from their work and being, maybe directly or indirectly. One such lady is Anushruti of Divine taste. Her aura in the blogosphere, her beautifully documented recipes, the perfect proportions/ingredients she uses for recipes, her satvic cooking skills and not to forget, the excellent cakes and cookies she creates in her kitchen mesmerizes every fan of hers. People have loved her and her recipes since years and she has been the source of inspiration for many including myself.
Speaking of potatoes, her recipe "Semolina Potatoes" made way to many hearts back at home. This is a rich, yet mildly flavored starter that would go with flavored rice – sabzi or pulav – raitha or any kind of soups you love. It is a rare phenomenon that Anu's recipes fail to impress people, but this one is sure to win a million hearts. A small token of love and respect all the way from Shimoga to Mumbai. This is for you Anu :) Thank you for being such an inspiration to me and do continue to be.
Semolina Potatoes (I Heart Series: Anushruti - Divine Taste)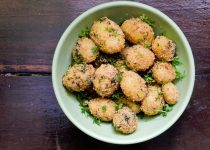 This starter can be accompanied with rice dishes alongside dal. You can also serve this with soups.
Recipe Adaptation from Divine Taste: Semolina Potatoes
Prep Time: 20 minutes
Cook time: 15 minutes
Yield: 5 - 6 servings
Ingredients:
Instructions:
Step 1: Wash and add the potatoes to a pressure cooker along with 2 cups of water and 1/2 tsp of salt. Cook till the whistle blows once.
Step 2: Let the potatoes cool down. Peel the skin of the potatoes and keep them aside.
Step 3: In a wok roast the semolina till golden brown and keep aside. In the same wok add the vegetable oil and butter. Heat till the butter melts.
Step 4: Add in the red chilly powder and coriander leaves and stir fry.
Step 5: Add the boiled potatoes and mix well till the potatoes are coated with the spices.
Step 6: Sprinkle the semolina and salt. Mix well till the potatoes are coated with a beautiful crust.
Step 7: Serve Hot.