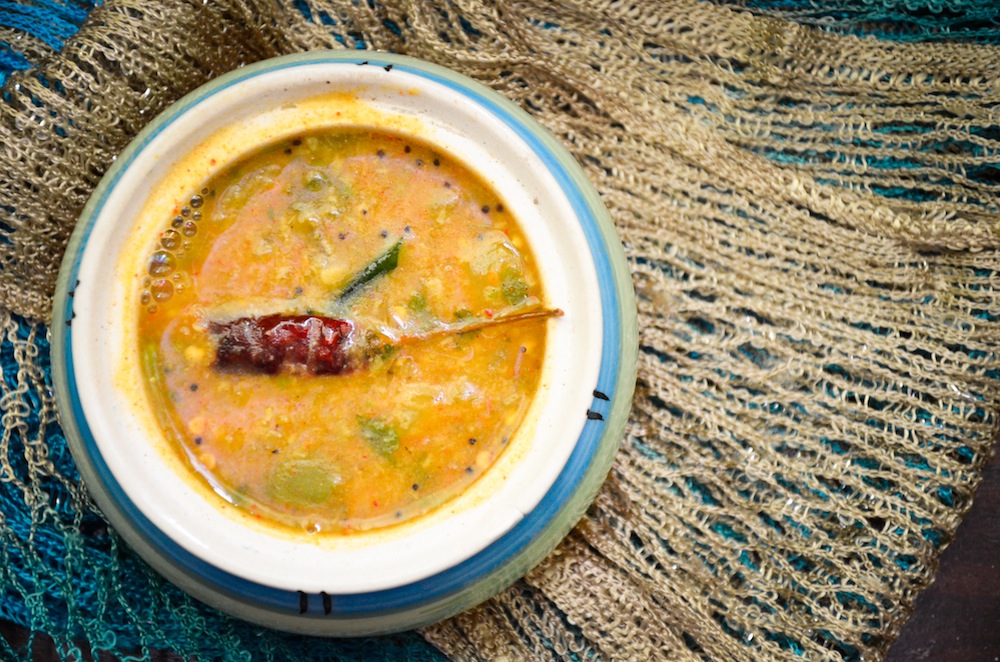 Curries or Sambhars have always been an integral part of our meals. Twice or even thrice a week, sambhars from any vegetable or greens make way to our platters. Hot fluffy idlis, when dunked in hot sambhar made from potatoes and baby onions gives us immense satisfaction.
Old recipes passed from parents, elders and grandparents have their own standard ingredients and tastes. Like I've always seen and tasted, every household has its own version of sambhar and rasam. Home cooks make the necessary adaptations to their curries to suit their family likings.
Recently, Vinay has started having a fond liking towards this sambhar made from Mattu Gulla (Green Brinjal found in Dakshina Kannada and Udupi districts). This vegetable has received recognition for a GI tag (Geographical indication). GI tag is a is a name or sign bestowed on a particular thing or product which corresponds to a specific geographical location or origin. This vegetable is very much sought after, since it gives out a very earthy flavor when cooked. This vegetable is grown exclusively in and around a village named Mattu, Udupi, which falls on the Arabian sea shore.
There is a unique historical story about the origin of Mattu Gulla in Udupi aging back to 400 years.
The Story
Around four decades ago, Sri Vadiraja Swami was heading the Sode Mutt of Udupi. He used to worship the idol of Hayavadhana, a golden diety which had the head of a horse. Sri Vadiraja Swami used to offer a sweet confection, the Hayagreeva or Muddy to the deity every day. Muddy is a famous traditional sweet, again originating from the Udupi temple, prepared using cooked channa dal, jaggery/sugar, cardamom, cashews, coconut and lots of ghee. It is said that Vadiraja Swami would hold the offering in a shallow vessel over his head, and the deity would appear in the form of a white horse, place its two fore legs on the Swamis shoulder and consume the offering leaving behind a small portion of the offering in the vessel for Vadiraja Swami. This continued for a long period of time and Vadiraja Swami's companions envied Vadiraja since they couldn't get their share of prasadam. They were skeptical about the whole circumstance and hence they decided to poison Vadiraja Swami by mixing venom in the next day's offering. The very next day, Vadiraja Swami, not knowing that the offering is infected with venom, waited for the deity to accept his offering as usual. He chants the prayer and calls out to his Lord to accept the offering. Finally after a long wait, the deity, in the form of the white horse, appeared and emptied all the offering without leaving behind any offering to Vadiraja Swami. The neck of the horse turned bluish.
The perplexed Swami was clueless about the incident. He called out for his Lord again and again asking him for forgiveness for any of his sins. That night, his Lord made an appearance in his dreams and explained to him about the venom that was mixed in the offering. He said, the people who mixed venom would themselves lose their lives eventually. But the venom that was induced into his neck, had to be neutralized by another similar ingredient. Saying this, the Lord handed over a few seeds to Vadiraja and asked him to give it to the people of a village named Mattu and ask them to sow the seeds in their village. The seeds would take 48 days to turn into a plant giving out the vegetable, "Mattu Gulla". The Lord asked Vadiraja to offer this vegetable as a medicine for 48 days to ease out the venom from his bluish neck. As told, Vadiraja Swami gave the seeds to the people of Mattu and the plants bore the vegetable in 48 days. Vadiraja Swami offered this vegetable in various forms to his Lord for 48 days which eased out all the venom from Lord Hayavadhana's neck. Since then, even to this day, farmers offer the first harvest of this vegetable to Udupi's Krishna Mutt. Elders have always exclaimed that this vegetable neutralizes all the negative effects on our body. Even today, the golden deity of Lord Hayavadana with the bluish mark neck is worshiped at the Sode Mutt in Udupi.
Apparently, during many of our visits to the temple and festive occasions in Udupi, this sambhar made an appearance that caught his attention. It is funny how I am more fascinated with food from Vinay's native and he is more inclined towards food coming from my native.
This sambhar needs no ground masala. In Udupi's native language its named as 'Gulla Bolu Koddel', which literally means it's a sambhar having no masala or spices in it. This vegetable is native to Udupi, but they do make their appearances in Shimoga too. Vegetable vendors manage to get a few kilos transported from Udupi. One fine afternoon I decided to make this out of interest.
To my surprise, I did hit the bull's eye and I could see the happiness on his face, after which, I have had many requests for this sambhar coming from him almost every week. Whenever we get our hands on this vegetable in Shimoga, we get them home to make this simple and comforting sambhar.
Not to forget, the stir-fried version of this vegetable tastes better than the other brinjals. The Mattu Gulla releases more amounts of juices when cooked, hence the taste differs from its other counterparts.
Gulla Bolu Koddel (Bolu Huli)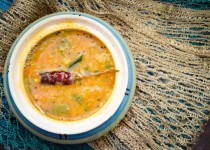 This sambhar (Koddel) has its own charm even if we add no spices or masala into it. This sambhar is best suited for summers. You can adjust the sourness from tamarind and the sweetness from jaggery accordingly. You can even add more green chillies if you want a sharp flavor. Once chopped, this vegetable has to be soaked in water to avoid color change. This procedure enhances the flavor even more.
Prep Time: 15 minutes
Cook time: 20 minutes
Yield: 6 servings
Ingredients:
Instructions:
Step 1: In a pressure cooker, add the toor dal, 1 tsp of ghee, and chopped tomatoes. Add 2 cups of water and pressure cook until two or three whistles. (Depends on your pressure cooker type) Once cooked, keep the dal aside.
Step 2: In the mean time, Cook the chopped brinjal in the extracted tamarind pulp, turmeric, salt, jaggery, green chillies and 2 cups of water. The brinjal would take about 15 minutes to get fully cooked.
Step 3: Once the brinjal gets cooked through, add the cooked dal and mix thoroughly. Let it come to a boil. Add a cup or half cup of water to get the required sambhar consistency. If you want your sambhar to be thick then do not add any water. Adjust the salt and jaggery if you please.
Step 4: Prepare the seasoning. In a seasoning wok, heat the coconut oil. Next add in the mustard seeds. Once the seeds stop popping, add in the curry leaves, asafetida (hing), red chillies. Add this seasoning to the sambhar.
Step 5: Mix well and add in the coriander leaves. Serve hot with rice. (The colour of the sambhar depends on the tomatoes you use.)