Very often, I used to hear my friends and dear ones say, after a child happens, life takes a complete turn. Exactly 4.5 months ago from today we welcomed a cute little guy into our family, who made us wait for a long, restless and crazy 9.5 months duration to realize the sweetest change in our lives. It was worth the wait for all of us and we as parents are indeed having the best time of our lives after our little one was born. Those little hands and feet, those bright wandering eyes, that shy smile on his face, the sweet sounding babbles and his screams makes my heart leap with oodles of happiness. A baby is truly a gift sent to us.
Owing to my pregnancy blues, anxiety, tiredness and disgust towards cooking I had taken a break from blogging and photography. I hated cooking during those days. May be it was a hormonal change, but funnily, I used to even stop myself from looking at my own food blog. I had a strange aversion towards sweets which otherwise was my favorite before pregnancy. Spiciest foods were what I craved for. People would call me mad but I still remember there were days when I ate plain green chillies. (Vinay, you should have monitored me back then. :P) Except for mangoes and street food, strangely I never had any major cravings. I had a hungry tummy most of the time and all I wanted to do is just eat.
Today, I repeatedly look back into my pregnancy app and recall those days. It really astounds me. Some difficult days flew by and now it's a sigh of relief. Birth is the first major achievement in a person's life. From a very small embryo to being a fetus and then being born as a baby requires so much of care and effort on the part of the mother and the baby itself. I still cannot come to terms with reality that I'm a mother to someone ☺
Way back in June – 2015, I had clicked a few pictures of Mango Rasayana for a post on this blog, just to leave it pending till today. Why not start writing on this blog this New Year as a new mum? ;) To make things even sweeter, I decided that I should post the recipe of this delightful old recipe from my native. Even though there was a major havoc created by the rains last year, the best Mangoes were stocked from our very favorite Mango orchard, Hashar's Folly. My father prepares this quite well and I made sure I took some to Udupi. I'm sure, along with the mum-to-be, the little one had enjoyed every spoonful of this refresher.
Mango Rasayana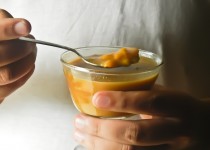 Mango Rasayana can be relished chilled with Neer Dosas, Puris, Chapathis or just plain.
Prep Time: 45 minutes
Yield: 4-5 servings
Ingredients:
Instructions:
Step 1: Peel the mangoes and extract all the pulp from them.
Step 2: Add jaggery to the mango extract and mix well.
Step 3: Into a mixer jar add the grated coconut, 3 cups of water and grind to a smooth paste to get the first extract of coconut milk.
Step 4: Strain out the first extract of coconut milk through a strainer and keep aside.
Step 5: Put the residue of coconut milk into the grinder. Add 3 cups of water. Grind again.
Step 6: Strain out the second extract of the coconut milk. This will have a thinner consistency.
Step 7: Add the first extract and second extract of the coconut milk into the mango and jaggery mixture and mix well.