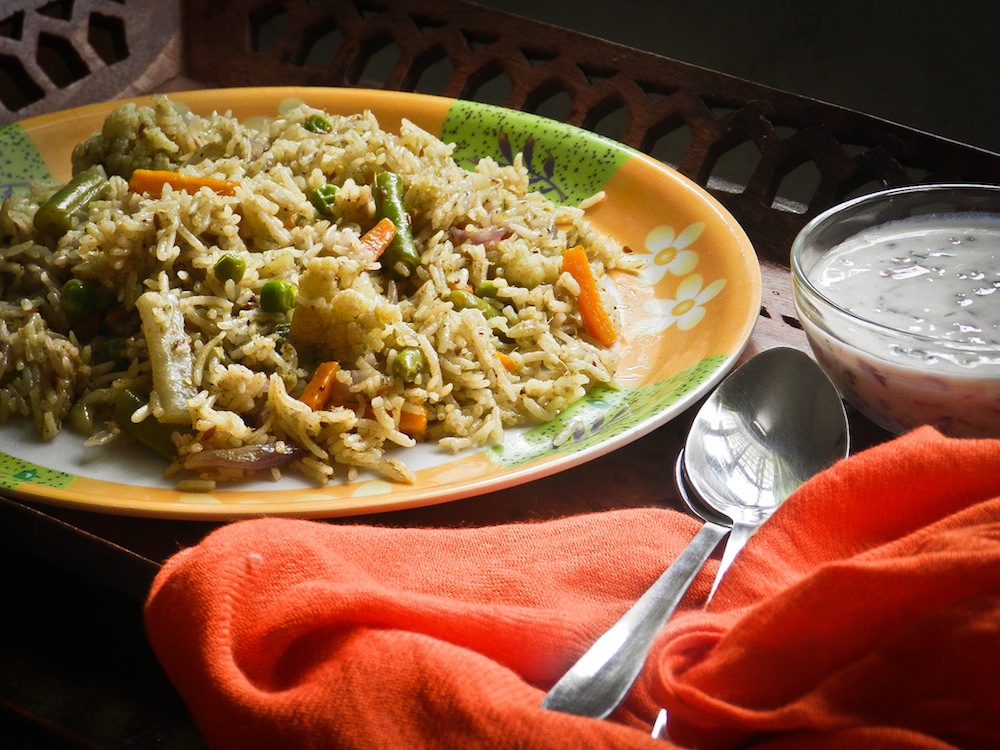 It has been quite a big year for us with the arrival of our little one, Krishna. On another happy note, we moved to a newer and a better home to stay. This place has given me more space to be clear and harmonized. Stuffs that never had their own spaces have now moved their respective locations. But yet, I would still need to have my daily activities whipped well in shape. After a kid arrives, its not as easy as I used to think. I usually plan my day well in advance, but the little boss rules my day always. One can say this by seeing the blog post dates being really far away from each other.
More importantly, I even realized the amount of time I used to kill by doing nothing when our little one wasn't born yet. The same thought runs in my husband's mind too, "Where did all the time go?" A child makes you agile, quick and you realize the value of every minute. Little Krishna has helped me chase away my lethargic ways and work towards completing my day to day tasks. He keeps me on my toes. Its a race with time when you have kids at home playing around, hauling out stuffs from every place possible, the sticky, littered floors that always end up being unattended. I love my new space for cooking. All my props have fitted well into good locations and corners which was once horribly arranged.
My previous home was a lucky charm for me and my family. We had lovely neighbors and the people around us really made our stay comfortable for the last four years. The banana plants had formed a canopy at the frontside of the house making it look like a rain forest. :) My husband still misses eating those lovely south Indian festive meals and the bisi bele bath on the plantain leaf. We also had a lovely lady Mandakini aunty staying with her husband in the house next to ours. Her delicacies used to be a dream come true for me. She has magic in her hands and whenever she cooks something, it is always out of joy, love and excitement. She would offer great food during my pregnancy. I used to love those perfect Banana buns, Jackfruit Idlis (Pelakai Idli), Akki Rottis, Avare Kaalu Gravy, Ragi Fryums and the best Pulav of all.
Today I'm going to share her lovely recipe of Pulav. I must say I never learnt to make pulav until she shared her recipe with me. My versions have failed me and they never gave me the required end result. Pulav must have the typical fragrance, taste and flavor, and my neighbor aunt's pulav was a perfectly setting recipe. When she narrated her recipe I was thrilled to try her version. And it did turn out the same as she had offered us. I decided to feature her and her recipe on this blog.
Vegetable Pulav`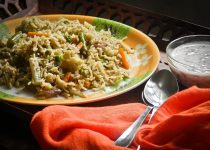 A Vegetable Pulav made using the most basic ingredients. The right proportions of these basic ingredients brings out the near to perfect tasting pulav. This pulav needs no raitha, but you can serve this with any raitha of your choice if you wish.
Prep Time: 15 minutes
Cook time: 20 minutes
Yield: 5-6 servings
Ingredients:
Instructions:
Step 1: Wash and Soak the basmathi rice for 15 minutes. Drain and keep aside.
Step 2: In a mixie jar grind Coriander Leaves, Chillies, Cloves, Cardamom, Cinnamo, Ginger and Garlic. Add a few tablespoons of water to get a smooth paste.
Step 3: In a pressure cooker add oil. Once the oild heats up add the cloves, Cinnamon, Bay leaves and onions.
Step 4: Toast all the ingredients. Let the Onions turn Golden brown.
Step 5: Add the ground masala paste and cook the mixture till the oil leaves the sides of the pan.
Step 6: Add the Vegetables. Toss everything well.
Step 7: Add the drained rice. Mix well.
Step 8: Add water, salt, lemon juice and kasuri methi leaves.
Step 9: Cover the lid of the pressure cooker and cook on a medium heat for two whistles.
Step 10: Once the cooker releases pressure, open the lid and fluff the rice. Mix the contents gently. Pulav is ready for serving