I have a huge compulsion towards cauliflower. The fusion of cauliflower and potatoes is magical and I don't think there can be any other vegetable that could replace cauliflower. Of course, broccoli, of the same family as cauliflower could be used, but not up to a level of satisfaction. Cauliflower has low fat content and since it is from the family of cabbages, it has high fibre as well. I'm always happy to cook and eat cauliflower as it possesses positive nutrients.
Aloo Gobhi is a traditional recipe in the northern parts of India and in countries like Nepal and Pakistan. There are numerous versions of aloo-gobhi. Mine is a sentient recipe. I had even offered this dish as Naivedyam during Navarathri.
I love this with a simple sambar or rasam and trust me, this tastes even better with curd-rice. But I find it rather strange to say this, because sambhar and curd-rice are from southern India and Aloo Gobhi is from the northern. Still the fusion is wonderful here. I can still recall myself relishing every bite of aloo-gobhi with rice and Vinay emptying the whole bowl of it without giving me any notice.
Aloo Gobhi is one of those recipes which every single soul must savor at-least once in a lifetime. There is something about this preparation which cannot be explained by way of phrases and lines.
Aloo Gobhi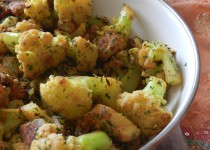 Aloo Gobhi is a dry stir fried preparation of potatoes and cauliflower florets. It is generally given a cumin tempering and enhanced with spices.
Prep Time: 15 minutes
Cook time: 20 minutes
Yield: 2-3 Servings
Ingredients:
Instructions:
Step 1: In a large cooking vessel, put in the cauliflower florets, turmeric, 1 tsp of salt and 1.5 liters of water and bring this mixture to a boil. Mix the contents with a stirrer. When it comes to a boil, turn off the heat and strain the mixture (Remove the water completely. You can use this water for making rasam or sambar.) through a sieve or colander and keep aside. (This method is just to ensure the cauliflower is free from dirt and germs.)
Step 2: In a wok, heat oil on a low flame, add in the cumin seeds and green chillies. Fry for 3 seconds and add in the diced potatoes and turmeric powder. Stir fry these potatoes and cover this with a lid for 10-12 minutes. Keep checking the potatoes in between to avoid burning of potatoes.
Step 3: After 10-12 minutes the potatoes will be soft and they look like this.
Step 4: Add in the cleaned cauliflower and mix gently. Keep this covered for another 5 minutes.
Step 5: After 5 minutes add in the cumin powder, garam masala, red chili powder, coriander powder and salt. Mix gently. Cover for 5 more minutes or until the cauliflower is cooked. When done, turn off the heat and add in the coriander leaves and serve hot with any sambar or rasam