Many a times I've come across people who have said, "Udupi food is very appetizing but the recipes are very elaborate." Well, I have come to say that it isn't :) Preparing a rasam or sambar is a cinch. Of-course, the proportions are very important.
There is no limit to the varieties of recipes to make a sambar. At home, there are two versions of sambars that get cooked, my MIL prepares the Mysorean style of sambar masala, whereas I make the Udupi version. In Mangalore, people prepare sambars in number of varieties. There is no end to the diversity.
The Udupi version is a lovely and simple recipe. To be honest I learnt the recipe only after I got married. Till then I used to be blind to the preparation. The masala has just five ingredients and that makes it quite simple. "Kodhel" is the name given to "Sambar" by the Shivalli Brahmin Community. It tastes a little spicy with a mild flavoring of jaggery.
Udupi District is a religious spot and is specially famous for the Krishna Temple. We some how end up going to this temple for lunch at least once in a month. The food here is absolutely wonderful and since sweets are my biggest weaknesses, I can never forget the taste of the creamy payasam thats is served here. The time I think about it, I go hungry. There is no other place where I'll be served such a perfectly cooked payasam. Sometimes, I even go for a second serving of payasam in the temple when all others get ready for the last course of the meal.
I love Udupi. I also love the fact that its a coastal city with "beaches"! :) Of-Course the humid weather is a concern. Udupi has a lot to add to whatever I am today. Right from childhood I have been travelling to Udupi for various reasons.
I still remember spending my school vacations in my maternal grandparents' place in Udupi where my mother was born. My mother used to take me to visit her mother on every vacation.
I used to travel with my mother to her place and I still remember, how as a kid, I used to feel saddened to leave for Mangalore after vacations were done. Now things have changed and the present shows me a different view after my grandmother and mother, chose to rest in peace. I hardly see myself going to that place now which seems deserted. But I am still connected to Udupi in many other ways and that amounts to some satisfaction.
Kodhel (The Udupi style Sambar)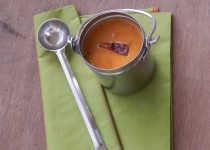 Kodhel is an Udupi version of Sambar. It has five main ingredients that forms a masala, flavoured with tamarind and jaggery. Methi seeds (1/2 tsp - roasted) and Cumin seeds (3/4 tsp - roasted) could be added. These are optional. I generally skip these two ingredients while making sambar because it creates the flavour of the rasam. These two ingredients are mainly used in my samaradhane rasam and tiffin samabhar recipe.
Prep Time: 20 minutes
Cook time: 15 minutes
Yield: 2-3 Servings
Ingredients:
Instructions:
Step 1: In a wok, heat 1/2 tsp of oil and stir fry the masala ingredients except the coconut. Fry these for 5 minutes or until the ingredients leave out a lovely aroma. After this turn off the heat and add in the coconut and just stir along with the other ingredients in the same wok and keep aside for cooling.
Step 2: After the cooling time, blend all these in a blender adding about 1/2 cup of water little by little to make a smooth paste. Sometimes lesser than half cup of water is sufficient depending on the freshness of coconut.
Step 3: In the meantime, cook toor dal, tomato together with 1 cup of water and turmeric powder preferably in a pressure cooker. Also cook the beans in the pressure cooker. Keep these aside.
Step 4: In a vessel extract the tamarind pulp completely. Bring this to a boil along with jaggery.
Step 5: Once all the jaggery has been melted, add in the cooked dal and beans.
Step 6: Bring this mixture to a boil on a medium high flame. And then add in the salt.
Step 7: After the mixture is boiled, add in the ground masala paste to this boiling mixture and mix well to bind the mixture well. Add water little by little to get a consistency. (You may need 1.5 cups of water) Bring this to another boil. Once this is done turn off the heat.
Step 8: In a small wok, heat oil for seasoning, add in mustard seeds. Wait for the seeds to stop popping and add in the curry leaves, asafetida and dry red chillies. Wait for 5 seconds turn off the heat and add this to the curry (Sambar).
Serve hot with rice.