Some of life's pleasures come along only when I travel or explore a new place. Nothing can be more intriguing than racing through a narrow road, high up a hill, amidst the thick forests dominated by the striped beasts and just believing that we would meet our destination.
Such a day it was, a few weeks back, when we were traveling to Udupi. We went on to explore a place named Kundadri which is about 75 kilometres away from Shimoga and 2800 feet above the sea level. A 17th century Jain temple holds its place in this strikingly beautiful location.
It was a stormy day and Agumbe, Thirthahalli and Shimoga are always abundant with rains. To reach Kundadri hills we had to climb up a narrow road/path, which is just sufficient for a single small vehicle. We were hoping that it shouldn't pour heavily and we shouldn't be confronted with vehicles or beasts! ;) A huge tree that had collapsed to the rain, blocked 1/3rd of the road that we were trying to cover. Fortunately, we could squeeze through the gap.

I wasn't quite brave enough to explore a place which was heavily affected by the rain storm. We were taking a big risk. Thanks to the adventurous Vinay, we reached the hill top safely and we had to climb up a few stairs to get to the topmost point of the hill occupied by the temple. When I first saw the view from the hill top, I was thrilled. It was indeed the best of the best I had ever seen.
The temple has its own story. Built about 4 centuries ago, the temple has no electricity inside. The temple priest performs the rituals just with an aid of an oil lamp! Extending an electric wire to such a height is not an easy job, impossible may be. In fact, the narrow road/path that I was just talking about, was a mud road initially. Recently, a noble man from Mumbai contributed towards constructing a tarred approach road.
Now coming to the most interesting part of this place. Just take look at this pond. [pic below]
I wonder if it triggered a question on your mind. :) A pond at a height of 2800 feet above the sea level? The reason: nobody knows. The speciality of this pond being, it does not dry up during summer and it doesn't overflow during rainy season. Note that this place has a lot of rainfall. Still, the water level in this pond remains the same. The depth of the pond is still unknown. There are sign boards that warn tourists not to take a dip in the pond. It is said that years ago, people tried experimenting with the mysterious pond by throwing a lemon in it. The same lemon was found in a river near Humcha which is in Shimoga district. There are a few more ponds like these near the temple. I'm not sure how true is the lemon story. But still, I would be forced to believe the story, because I did not even imagine a deep water body on a hill top, but such a thing really exists.
If you love to, you can visit this place anytime before or after the monsoons. Traveling to such a place during the monsoons would be risky. I would also suggest you to go in a small group of 4-5 in a small vehicle. Bikers can visit this place in large groups of 10. Due to the narrow road, the smaller the vehicle, the better. Please do not take your kids along. The wind is pretty much powerful and it could easily sweep a thin, frail and a weak person.
Speaking of the monsoons, cauliflower is freshly available during this season. My favorite way of cooking them is by making Aloo Gobhi or just tossing them with some seasoning. A curry made from paneer and cauliflower cooked in a tomato gravy tastes divine. Of-course, who would not indulge in some Gobhi pakoras with some green chutney when the weather in sinfully cold? :)
I'm posting a very basic recipe of cauliflower that is just stir fried and can be savored with phulkas and rasams. This recipe suits our taste buds and you can change the seasoning to anything you wish. For a South-Indian version you can choose the mustard seeds, asafetida and curry leaves seasoning.
The journey is incomplete. :) In my next post I'll be writing about Mandagadde bird Sanctuary.
Stir Fried Cauliflower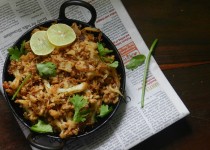 This recipe is more or less similar to my Aloo-Gobhi recipe. You must break the cauliflower into small florets unlike in Aloo-Gobhi. As I've mentioned you can tweak the recipe in various ways based on your taste buds. I'm putting up a very simple version here.
Prep Time: 15 minutes
Cook time: 20 minutes
Yield: 3 servings
Ingredients:
Instructions:
Step 1: In a large vessel, add the cauliflower florets, salt and water and bring it to a boil. (As shown in Aloo Gobhi. You can also use turmeric powder along with salt.) Strain the water using a colander and keep the florets aside.
Step 2: In a wok or a frying pan, add the vegetable oil (On a low flame). Once the oil is heated add the cumin seeds, cloves, star anise and cinnamon powder. Make sure the spices don't burn.
Step 3: Next add the cauliflower, turmeric powder and 1/2 tsp of salt (Since we have already cooked the cauliflower in salt, add salt only if required). Shut the vessel with a lid and let the cauliflower cook for 6 minutes.
Step 4: Add red chilli powder, coriander powder, cumin powder, sugar and mix well. Let it cook for another 7 minutes.
Step 5: Turn off the heat and add the lemon juice and coriander leaves. Mix well and serve.