Rava Idli is one kind of dish that can bring me a very happy morning. Rava idli dunked in a lemon rasam, sagu or plain coconut chutney is a winning breakfast. Semolina works wonders, be it Rava Kesari or Upma. Of all the things and facts about rava idli, the inception of this exotic recipe is strikingly interesting. It took me back to fantasize the world war 2.
The story of Rava Idli
The inception of Rava Idli dates way back to the second world war. It has been said that MTR, (Mavalli Tiffin Rooms) a restaurant in Bangalore, discovered the recipe of Rava Idli. During world – war 2, the restaurant had no access to new stock of rice that was required for making idlis. They had no choice but to persist their service to customers.
With the culmination of pressure and shortage of idlis in the restaurant, MTR came up with a recipe of idli, made from rava and they named it rava idli. Since then, there was no turning back. Rava Idli has become very popular since the second world war and is a part of the breakfast menu in many homes.
The story behind rava idli is very thrilling. It is quite fascinating to know the recipes and the history behind these exotic recipes. The most interesting part of rava idli being, it is very quick to make, exteremely tasty, in-fact I find it more tastier than the normal idli and at the same time it is a very healthy breakfast recipe.
If I suddenly crave to sink into the joy of eating idlis, I would make these for sure. One can never go wrong while making these. It is almost as easy as one can imagine. You don't have to wait overnight for the batter to ferment. "An instant Idli", this is what I can say.
Rava Idli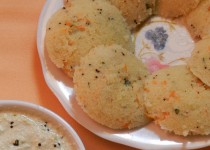 Rava Idli is an instant version of an idli, made from rava (Semolina) and seasoning ingredients like mustard seeds, curry leaves, channa dal and grated carrots.
Prep Time: 20 minutes
Cook time: 10 minutes
Yield: 12-13 idlis
Ingredients:
Instructions:
Note: If you do not have an idli steamer, use a pressure cooker instead. You just need to remove the pressure valve and use as the recipe directs.
Step 1: In a wok, on a medium flame, heat oil. Once the oil heats up, add in mustard seeds. Wait for the seeds to stop popping. Then add in the channa dal, urad dal and curry leaves. Wait for about 5 seconds.
Step 2: Add in the Semolina and stir fry the semolina for about 3-4 minutes on a medium flame or till the semolina turns yellow.
Step 3: Add in the carrots and stir fry well for 2-3 minutes on a medium flame.
Step 4: Turn off the heat and let this mixture cool down.
Step 5: After the cooling period, add in the yoghurt, mix gently. Then add in water, salt and the cooking soda. Mix gently. Remember: The texture of idli has to grainy and soft. So 'do not' overmix. The ingredients need to be just bound together.
Step 6: Smear a little oil (any vegetable oil) to each idli mould. Next, pour the batter into idli moulds and steam (In and idli steamer or pressure cooker - see 'Note' at the beginning) for 10 minutes.
Serve hot with Lemon Rasam, Saagu or Coconut Chutney.
Tip:

After 10 minutes immediately open the lid of the steamer or pressure cooker lid. You will get softer idlis. If you fail to this, the idlis get hard.