Tamil Nadu, a few parts of Karnataka and Andhra have this unique tradition of serving chutneys and chutney podis in varied forms. I did have the opportunity a few times earlier in my lifetime to gorge on those spice powders and it won my tastebuds. Nevertheless, I was far from trying chutney powders aka chutney pudi, and you could call it my bad, but I somehow didn't bother to learn too. It was only after I tasted the peanut chutney pudi at a friend's place in Shimoga with the Dharwad Jolada rotti, I gained motivation to try reproducing it at home. My MIL makes wide varieties of spice powders and it only requires a lot of skill, creativity and talent in making proper measurements to reproduce some enchanting flavoured podis (powders).
All households have a unique taste and touch to their foods and being a foodie I keep exploring new cuisines wherever I travel. I still miss those wedding ceremonies of Udupi and Shimoga, both being completely different from each other, yet I used to have loads of fun exploring and unraveling the cuisine and those varieties. My dream is to travel more in future. Our country is rich in culture, tradition and food. We can only make more from it by travelling and learning the beauty of the amalgamation of colours, taste, texture, the style of cooking and of course eating! Being a South Indian I have come to realise that I am yet to explore more flavours and also adopt a few more dishes in my repertoire.
I've been thinking over these, but on the flip side I still haven't got the courage to take my little one to far away places and travel with this little mischief monger who hardly cares about eating or filling his tummy and takes a prolonged session to finish his meal. Having a finicky toddler is a task to be managed and I am still fighting it out on his eating habits. He loves his dosas, rottis, chapattis and shyavige (string hoppers) but still hates milk or sweets in any form. I sometimes long for the day when he grows up to go to school. But the same thoughts convert and make me realise that I'm gonna miss his notorious activities and his bubbly-innocent-baby-looks once he gets busy with schooling.
The thoughts of posting a new recipe makes me elated but it isn't that easy as before (Before Krishna was born) when I used to lazily finish off my tasks as slow as possible and then crawl over to my Mac. I have to juggle with his curiosity and his antics the whole day, who never sits down even for a minute, make him finish his meals, and at last putting him off to sleep by the end of the day. Everyday, at 9:30 PM sharp, that moment when he gets into his deep dreamy sleep with his warmest clothes on, I breathe a sigh of relief. I suppose only mothers would understand the depth of this elated feeling :)
Coming back to the aspect I had started with, I have a few different recipes for chutney powders, all of which I have tried and tested. This chutney powder recipe uses dry red chillies, urad dal, channa dal, curry leaves, peanuts and sesame seeds as main ingredients. My MIL makes a more simpler version that has fewer ingredients and that forms the basis for this chutney powder recipe. You can make many variations of this chutney powder recipe. But make sure you follow basic proportions and measurements, else you might end up with an odd tasting end result. You can also add ghee roasted drumstick leaves / dill leaves / garlic to this recipe and make it more nourishing.
You must add a good amount of sesame oil while roasting the ingredients of this recipe. If you feel the need to skip the oil, you are free to do so, but I would suggest you to use some amount of sesame oil or coconut oil, whichever flavour you love, to get an enhanced aroma for this powder.
Chutney Pudi (Chutney Powder for Dosas and Idlis)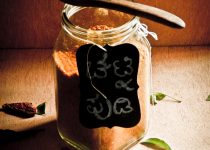 This recipe is versatile and you can tweak the ingredients that could add more flavour to the powder. You may add Garlic (Roasted in Ghee), Drumstick leaves, Dill Leaves or probably even methi leaves for a more nutritious powder.
Prep Time: 30 minutes
Cook time: 60 minutes
Yield: 1 bottle of Chutney Powder
Ingredients:
Instructions:
All roasting is done on a low heat.
Step 1: In a large wok, on a low heat, add a tsp of sesame oil and roast the dry red chillies till you get a crispy outer skin and aroma. This would take just a few minutes (1 or 2 minutes). Remove from heat and keep aside on a large tray or a plate.
Step 2: Add in the urad dal. Roast till the dal turns golden brown. This takes around five minutes depending on the type of wok you use. Remove from heat and keep aside.
Step 3: Add the peanuts. Roast till the peanuts start splitting into two and tuns golden brown. Remove from heat and keep aside.
Step 4: Add the channa dal. Roast till the dal turns golden brown. Remove from heat and keep aside.
Step 5: Add 1 teaspoon of sesame oil for the curry leaves and roast til the curry leaves turn crispy. Remove from heat and keep aside.
Step 6: Roast the sesame seeds. The seeds start spluttering. Remove immediately from heat and keep aside to avoid burning.
Step 7: Add 1 teaspoon of sesame oil for the coriander leaves, roast till the leaves soften and turn crispy. It takes a while for the leaves to turn crisp and dry. Once the leaves have dried keep aside for cooling.
Step 8: Roast the dry coconut (No need to ad oil). Roast till it turns golden. Keep aside.
Step 9: Once all the ingredients have cooled down, put them into a bowl and bind them with a spoon.
Step 9: Once all the ingredients have cooled down, put all of the roasted ingredients into a dry grinder or jar, add in the tamarind, jaggery, salt and asafetida and give it a good blend. Blend at a good number of spurts on the lowest speed since the peanuts and sesame seeds would release some oils too. Give it a good mix with a spoon in between the intervals. Do not blend continuously else you could end up having a mass.
Step 10: Once the ingredients have been ground well, transfer into a airtight glass jar. This keeps for nearly a month.