When I posted the recipe of Chutney powder a few months ago, I received a few requests for the recipe of moringa leaves chutney powder. Its quite elating when you know people love and adore you for what you do. And there are some who have been sticking on to read my writings since 2012. Five years, and thats a very long for some of you readers to subscribe on to my blog, wait for recipes to come up, read through and even try them out.
Back to 2012 when I just started writing about food and recipes I had very brief idea of what food photography or food writing can bring into my white pages of life. It does add a lot on zing to one's skill and talent if you end up being a food blogger specially when you have to plate your food and style it on a beautiful back drop and capture the whole setup in a frame.
After a few months I realised food photography was something I had to seriously work on with regard to plating and colours. Let me tell you, it isn't that easy as it looks like or may seem. I may want to add that shooting while cooking, measuring the ingredients, styling the setup and props and the final plating is time consuming on its own. Furthermore, we make a whole story come together in single photograph. The very next stage is to edit the raw images and decide which photograph makes it to Flickr and the blog.
Then lastly, all the aura and emotions with regard to the recipe, the ingredients, all those nostalgic moments associated with the food, and the sequence of steps within the cooking process comes together as a sequence of words and paraphrases whilst I listen to some good music at the background.
It takes a lot of time, commitment and creative skills to make it all come together into a single consolidated post on the website. And most importantly, each time the content has to be new and fresh. Being a food writer and stylist is a "blessed and a tricky" profession and I'm truly elated to be authoring this journal and making efforts to bring forth something that I love the most.
Today's recipe can fetch you a lot of experience while making chutney powders with leaves and herbs. Drumstick Leaves / Moringa Leaves / Nugge Soppu is heavily packed with iron and one can see how the world runs after these greens to just get their doses of iron shots. You can find these trees are easily available in every home in Mandya and its easy and fresh accessibility is a boon for us.
If you get your hands on these leaves do try making this chutney powder I'm sharing with you. This powder peps up any meal and it'll never bore your tastebuds.
Moringa Leaves Chutney Pudi (Drumstick Leaves Chutney Powder)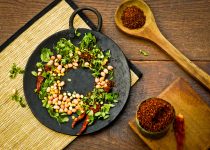 This recipe is one of the ways to make moringa chutney powder. It might turn a little bitter at times depending on the taste of the leaves. You have to mix this with a little coconut or sesame oil with rice and pep up your meal times. It taste best with idlis and dosas.
Prep Time: 40 minutes
Cook time: 35 minutes
Yield: 1 bottle of Chutney Powder
Ingredients:
Instructions:
Step 1: In a wok, add 1/2 tsp of oil and roast the urad dal on medium heat till it turns brown. Remove and keep aside.
Step 2: In the same wok, roast the channa dal and roast till it turns brown. Remove and keep aside.
Step 3: Now, add another 1/2 tsp of oil and roast the peanuts till it turns brownish and starts splitting. Remove and keep aside.
Step 4: In the same wok, roast the coriander seeds till it starts leaving an aroma. Remove and keep aside.
Step 5: Add 1 tsp of oil and roast the red chillies till they turn crisp and leave an aroma. Remove and keep aside.
Step 6: Add 3 tsp of oil and roast the moringa leaves till the leaves turn crisp. The leaves may take about 15 minutes to turn crispy.
Step 7: Dry roast the coconut till it turns brown.
Step 7: Once all the ingredients have cooled, blend all the ingredients along with tamarind, salt, asafoetida and jaggery till you get a "roughly" smooth blend.