I could no longer hold my excitement when I unmoulded the tart pan and found my self holding a perfectly set chocolate tart. All these small joys of attainment in my recipe developemnt keeps me on my toes to share these small experiments on this online journal.
The making of some kind of chocolate, has its own grace and contentment. Be it in the form of cakes, cookies, pastries, biscuits, mousse or ice creams, the end result is always a stress buster eventually. I haven't come across anyone who doesn't indulge in chocolate during their grilling times or even other wise. Personally, I find bitter sweet or semi sweet chocolates are more tantalising. Even while I write, I do spoil myself with some small bits of chocolate to regale my tastebuds and make my posts more interesting :P
From recent times, just as I re started my blog series, I had the urge to put up something with regard to chocolate. My trials with baking is ongoing process where I still have to find a niche to make my recipes more better, since I prefer baking with healthy ingredients sans all purpose flour.
This chocolate tart came as a wonderful surprise since I just used five ingredients to make this pretty looking dessert. Butter is the only agent that helps in setting this tart filling and that is the simplicity of this recipe. All ingredients I've used here are easily available in any well stocked pantry. The tart filling is fudge like and when eaten in combination with the biscuit crumb, I'm sure you will love me for this :) Its a promise that any chocolate enthusiast will unequivocally love this dessert.
Easy and Eggless - No bake Chocolate Fudge Tart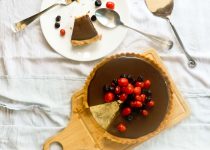 This recipe is quite simple to make. With just 5 ingredients you can whip up this tart in less time. You can top this tart with whatever you are pleased with. Use chocolate shavings or chocolate buttons for a more prettier and chocolaty tart.
Prep Time: 30 minutes
Cook time: 20 minutes
Yield: 7-8 servings
Ingredients:
Instructions:
Step 1: In a blender or food processor, add the biscuits and grind them to a fine mixture.
Step 2: Add 100 gm of melted to the mixture and give it one pulse. Don't grind it completely. Alternatively you can take out the Biscuit crumb mixture into a bowl and mix in the melted butter. The mixture must resemble wet sand.
Step 3: Add this biscuit crumb mixture into a tart pan and press the mixture alongside the sides of the tart pan with the back of a spoon to form a base crust. Refrigerate this for 15 minutes till the base is firm.
Step 4: While the base is cooling, prepare the filling. In a wok, on a low heat add 1/4 cup of butter and let it melt. Add condensed milk, cocoa powder and fresh cream and mix well with a whisk.
Step 5: Keep stirring till the mixture thickens. This might take about ten minutes or more.
Step 6: After the chocolate mixture cools down, tip this mixture into the chilled tart pan till the pan fills up.
Step 7: Refrigerate until set or for 8 to 10 hours.
Step 8: After the tart sets loosen the tart from the pan. Start from the sides first. Cut and Serve chilled with berries or whipped cream or ice cream.