This post was long overdue due to unforeseen circumstances and et al. These pictures of the delicious ridge gourd chutney was sitting in my folder waiting to be processed into a blog post. :D. I realised this was even before I switched to a DSLR hence, whilst the editing process, I could see too many discrepancies and blunders in my pictures.
I must say this journey of food styling and photography is getting more impassioned and I'm soaked in thoughts and ideas every moment. Being a mother and living in a big family, its quite natural not to be able to make enough time for my obsession with producing beautiful pictures with food, but notwithstanding I drive and coax myself to shoot pictures at some time of the day. This even motivates me to stay organised and more handled.
Today's post, is a childhood favourite and this recipe is again, from my mother's repertory. I used to love this with dosas, idlis and it was my comfort food when mum would make these with the ganji, which is a broth made from red Mangalorean rice or what we call as Kuchalakki.
There are many memories of my childhood that stirs a lot of emotions. Sometimes, the adrenaline rush within, that seems to shake up a lot of memories down the lane, makes me feel more regretful about my mother. I even get into buried thoughts as to what if she was alive today?
My sister and I have stood strong and tall inspite of all unmanageable circumstances, which I used to be naive to during childhood. I feel estranged sometimes, but I just let go of these anxieties only with the satisfaction that my father is leading a peaceful life today, all by himself, after all the whipped up life he had lead for more than 3 decades.
This recipe is a keeper, and it goes well with rice, dosas, idlis, chapathis and even with the rice rasam combination. My all-time favourite is of-course with the Kuchalakki ganji.
This was even served in one of the restaurants we had visited during our Yercaud travels and we don't need any introduction to how the Tamilians cook and relish their amazing chutneys :)
Leaving you with some captures of my expeditions and treks in the entralling Yercaud.
Ridge Gourd Chutney (Peere Chutney / Heerekai Chutney)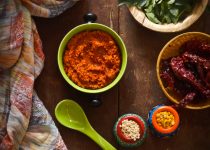 This chutney is essentially meant to be savoured with rice and a little bit of Ghee/Coconut oil, but you can also savour these with dosas, idlis and chapathis too.
Prep Time: 15 minutes
Cook time: 15 minutes
Ingredients:
Instructions:
Step 1: Wash and chop the ridge gourd into small bite sized pieces. In a pressure cooker, cook the ridge gourds with 3/4 cup of water until they turn soft. (1 whistle) Drain the water and use the same water for grinding the chutney.
Step 2: In a woke add 1/2 tsp of coconut oil and roast the channa dal and urad dal till you get a nice aroma.
Step 3: Break the dry red chillies into smaller bits and in the same wok add the red chillies and roast them till they turn crisp. Remove and keep this aside.
Step 4: In the same woke add another 1/2 tsp of coconut oil, roast the curry leaves until they turn crisp. Remove and keep this aside.
Step 5: In the same woke roast the grated coconut just for 30 seconds.
Step 6: After all the roasted ingredients and the cooked ridge gourd has cooled down add them into a blender along with jaggery, tamarind, the drained ridge gourd water, salt and grind into a chutney consistency. Let it not be a too fine paste.
Step 7: Prepare the seasoning: In a small wok, add coconut oil. Once it heats up add the mustard seeds and urad dal. Turn off the heat when the mustard seeds start popping. Then add the asafoetida and curry leaves. Pour this seasoning over the prepared chutney.