Travel has been a programmed affair for us after a kid happened. A couple of years ago it was all about just packing some apparels and fleeing off to unknown expanses without even probing the nature of the inns we would choose to station ourselves. Now, it is all the adverse and I still am not in for rapid expeditions. Our last jaunt was to Yercaud and it was revelled-in best by the junior to the chock-full degree.
On the B-side, I must call myself lucky when it comes to the toddler's spirit for travelling. The three year old now finds it rather convenient to walk into restaurants and tuck into some of his favourite foods. Uncertain if I've mentioned about this trait of little Krishna before, but he has been an amazing travel partner in all our vacations, whether near or far.
Yercaud was the best so far when it comes to convenience and the food flexibilities, the choices of restaurants and the climate. The place is more of peaks and points with a lot to explore and trek. This place still remains as one of the unexplored places in Tamil Nadu. We had chosen to stay at Sterling which is by far a very comfortable choice for family stays, specially with children.
Speaking of food in the resort, I still remember the amazing strawberry pastry cake that was made for one of the dinner buffets as dessert. Like how every time my heart yearns to remake such pastries back in my kitchen, I decided use the strawberries given by my SIL, Vinutha in an egg free wheat cake.
Shooting these berries and the whole process of cake making was tedious owing to the fact that you can't afford to go wrong whilst measuring ingredients and setting up the oven temperatures, along with the toddler messing up with the baking tools. Let me tell you, the mess and aftermath of the entire food styling trial is shameful sometimes. The whole process behind food styling and photography is sometimes a mayhem. Having an organised kitchen and prop shelf is a must if you really want to make food photography an effortless affair.
Cakes have always swinged my fancies and I always dream to make cakes look pretty, delectable and healthy sans all-purpose flour. Ever since I chanced upon whole wheat pastry flour, I've been using this for most of my bakes. You can as well use whole wheat flour or atta for all my recipes that call for the whole wheat pastry flour. My experiments with atta flour or the Indian wheat flour will go on and I've been contemplating to provide more baking recipes with wheat flour as well. Many have switched completely to using atta in baking and people have even adapted themselves to the flavours of a wheat cake. If you are very passionate about baking for parties and occasions, you can comfortably bake a party cake with whole wheat flour and never miss the presence of the all purpose flour.
This cake is a must try when you have strawberries in season. With the tartness of the strawberries, this cake has a moist texture and a mild flavour. I've frosted the cake with buttercream icing and decorated it with strawberries. I have two left hands when it comes to frosting cakes and I'm not very proud of how this cake has been frosted. Nevertheless, this tasted good and I'm glad to be sharing this recipe finally.
Eggless and Whole Wheat Strawberry Cake with Buttercream Frosting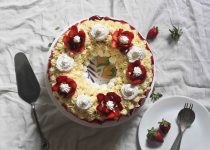 This cake can be devoured as it is or you can frost it with whipped cream frosting while making it a wet pastry cake with sugar syrup.
Prep Time: 20 minutes
Cook time: 40 minutes
Yield: 9-12
Ingredients:
Instructions:
Step 1: Preheat the oven at 165 degree centigrade for 10 minutes. Grease a 9 inch cake mould and dust the mould with a little wheat flour. Tap the excess flour.
Step 2: In a mixie, grind the granulated sugar to a smooth powder and keep it aside.
Step 3: In a mixing bowl, add powdered sugar, oil, vanilla extract and curd. Mix it with a whisk till the sugar dissolves.
Step 4: Sieve the whole wheat pastry flour, corn flour, baking soda and baking powder separately.
Step 5: Add the sieved mixture to the wet ingredients. Mix with a spatula till the flour combines well. Avoid over mixing.
Step 6: If you feel the mixture is thick, add milk little by little and bring it to a cake batter consistency.
Step 7: Add the chopped strawberries and fold gently. Pour and bake in the greased baking mould.
Step 8: Bake at 165 degrees centigrade for 40 minutes to an hour.
Step 9: Remove the cake from the oven, and let them sit for about half an hour before you un-mould it. The cake will have cracks on top so don't fret.
For the butter cream frosting:
Step 1: Using the highest speed of a blender, blend the butter and icing sugar till it forms peaks. This might take 3 - 4 minutes.
Step 2: Frost the entire cake with the cream. You can pipe flowers or roses on the cake.