Passing the time-honored and traditional recipes to the younger generations is an indispensable task for all mothers or home cooks. I have come to an understanding that kids must get acclimatised to the regional food of where he/she belongs to.
All of this epitomises to how we, the middle age generations, have been living and brought up. Being conformed to a small town lifestyle, I hold a high regard to these petty facets and conditions for a healthier lifestyle. Having said this, I do see my little one getting captivated by the not-so-healthy street bites and meals these days. ;) I'm hoping to inculcate good eating practices in him once he truly understands the choices of food he can make.
Today's recipe features raw bananas in a very unique form. Raw bananas are the most versatile vegetables we have at our grasp. These can be baked or deep fried, stir fried and cooked to make meals hearty. I refer to it as an easy substitute for potatoes. These are highly fibrous and rich in potassium.
The Tamilians use raw bananas (Baale Kaayi) to make a form of Podi (Powder) that goes in par alongside Majjige Huli or Thambuli (Curry made from sour curd/buttermilk). I've always admired and loved the Tamil Nadu cuisine for various reasons and I've already mentioned this aspect in my prior writings. This recipe belongs to my MIL's repertoire and it is quite versatile. I make a few changes to the quantity and type of lentils every time I cook this recipe.
The original recipe calls for burning the raw bananas over charcoal. This will enhance the taste of the recipe even more.
Raw Banana Podi (Powder) with Mango Thambuli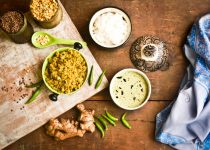 You can use green moong, black urad, black eyed peas (alsande kaalu), toor dal, or whichever lentil that fancies your creativity. Make sure you use the right choices of lentils and quantities to suite your digestive system.
Prep Time: 30 minutes
Cook time: 30 minutes
Yield: 4-5 servings
Ingredients:
Instructions:
Raw Banana Podi
Step 1: Over a gas flame or charcoal, burn the raw bananas till they turn charred. This might take 10 minutes for each. Leave aside for cooling.
Step 2: Once cooled, peel and chop the bananas into bite size chunks. It would be fully cooked from within.
Step 3: In a mixie jar, add the soaked lentils, green chillies, ginger, coconut, cumin seeds, turmeric powder, salt and give it a grind. Remember, please DO NOT grind to a smooth paste, it must be coarse. Remove and keep this aside.
Step 4: Next add in the crushed bananas. Grind, till it is smashed well.
Step 5: Take a steel container or a vessel (preferably with a lid) and add the lentil mixture and banana mash together and close the lid. In a pressure cooker or idli steamer), add water to a depth of 3 inches and place the prepared container. Steam the prepared container in the pressure cooker (without the whistle) for 10 minutes.
Step 6: In a wok, add coconut oil, and prepare the seasoning. Add mustard seeds, urad dal and curry leaves. Let the mustard seeds splutter.
Step 7: Add the steamed mixture to the wok. Stir fry the mixture for 15 minutes by continuously folding and cutting it in. Let the whole mixture combine well.
Step 8: The mixture starts drying up. Once completely dried and coarse turn off the heat and let it cool.
Step 9: Serve with hot rice and thambuli.
Raw Mango Thambuli
Step 1: In a mixie jar, add the coconut, cumin seeds, green chilly, ginger, curry leaves and table salt. Grind the mixture.
Step 2: Add the raw mangoes and grind again.
Step 3: Now add 1/2 cup of water and grind it to a smooth paste.
Step 4: Add this to a serving vessel and add the rest of the water.
Step 5: Prepare the seasoning in a small wok. Add the coconut oil and mustard seeds. Once the mustard seeds splutter add cumin seeds and curry leaves. Pour the seasoning into the thambuli.
Step 6: Serve with hot rice.