Exotic vegetables are some of the treats I look out for when I go places. Whenever I spot such vendors or markets it makes me happier and more thankful that I'm a food lover. When I resorted to gardening, I realised how much of a painful effort would a farmer put in to make a field of vegetation grow without any hurdles. I strongly feel, once in a life time, one must try growing at least a couple of fresh herbs, be it coriander or mint in small pots or containers in a balcony or the roof top whichever is available and convenient just to know how much contentment is attained to the mind with the efforts taken to raise a plant.
When I went visiting Mysore very long back, I spotted some fresh celery at a vegetable market and decided to make a quick roasted vegetable snack from them. It has a nutty flavour and gives a different taste to whatever you add it to.
Simple recipes are great when you have fewer people to cook for at home. Whenever my husband and I have to have meals together I make sure its simple and less time consuming. Both of us are accommodating when it comes to food and it goes as simple as rice with dal and a vegetable alongside with fresh set curd. Krishna is of course a picky little fellow with his own set of favourites and choices, and I do make attempts to serve him these kinds of food too, but, sadly he still hasn't come to terms with his relationship with food.
I made a simple and quick snack just when the two of us had to have a meal. I cooked some plain white rice to go with it and we were good to go. These recipes make an easy way out when we run out of options on a lazy day.
Pan Roasted Vegetables (With Celery and Sesame Seeds)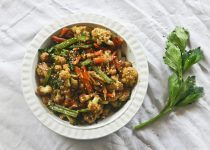 You can choose any vegetables of your choice. I would suggest broccoli, spring onions, shallots, yellow and red bell peppers, paneer, cabbages, boiled soya chunks and potatoes too.
Prep Time: 15 minutes
Cook time: 30 minutes
Yield: 3-4
Ingredients:
Instructions:
Pardon me for the absence of pictures for every step. I shall update the recipe soon with all the pics in the steps.
Step 1: Cut and clean the cauliflower florets and running water.
Step 2: Mix cornstarch and water and keep aside.
Step 3: In a wok add in the sesame oil, once it heats add in the garlic and ginger and saute.
Step 4: Add in all the vegetables and stir fry them on a low heat.
Step 5: Add salt, soya sauce, sugar and mix well.
Step 6: Add in the corn starch + water mixture and mix. Let it simmer for 15 - 20 minutes. Keep stirring the vegetables very five minutes.
Step 7: Once all the water has evaporated give it a good mix and turn off the heat.
Step 8: Add in the pepper, oregano and toasted sesame seeds and serve hot with rice.