Dealing with whole wheat flour while baking is an enticing empiricism. We all know how the world is changing towards an organic lifestyle, be it through the vegetables we eat or the products we use. For me it is all about eating clean home – made food while not binging on street food. Occasional indulgences are just limited to travel days. It does make a lot of difference when we try to inculcate favourable food habits into our conduct. Of-course, this kind of restraint cannot be made if someone lives without a kitchen. I still recall my bachelor days in Bangalore, where I literally had to eat restaurant food every single day. Its a tenacious subject when you have to deal with food outside home.
Pizzas aren't a furor with me or my family members nor do we have good outlets selling good pizzas in Mandya. Opportunities have come where I have munched on pizzas in some of the popular eateries. But why not indulge when you know how to make a good whole wheat pizza base from scratch and a good sauce to top it.
A few weeks back my mind chanced on baking a whole wheat pizza from scratch and it was close to a store bought pizza. When I opened the oven I was in for a surprise as the aroma of the herbs thrown into it had dispersed through the entire area and it was alluring. My happiness only doubled when my little picky toddler gave his stamp of approval as he went for more helpings after having a taste of this pizza. He couldn't stop with just a few bites and what could be more satisfying for a mother of a picky little eater boy.
I've used whole wheat flour or what we call "atta flour" for the pizza base. And for the pizza sauce I've used tomatoes and onions as the main ingredients with a generous sprinkling of oregano. You can roll out and make a thin crusted base or a fluffy thick base. Vegetables are all of ones choice and you can explore more with your instincts and creativity.
Mix Vegetable Pizza with Whole Wheat Base and Homemade Pizza Sauce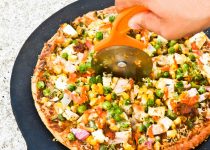 You can add any vegetables of your choice. If you get access to yellow bell peppers, red bell peppers, olives, cherry tomatoes, brocolli and spring onions you may add them too.
Prep Time: 3 hours minutes
Cook time: 30 minutes
Yield: 3 pizzas of 9 inch size
Ingredients:
Instructions:
For the pizza base
Step 1: In a bowl mix the warm water, milk, sugar and sprinkle yeast on top and keep aside for the yeast to start reacting. Take wheat flour, oil and salt in another bowl.
Step 2: Once the yeast has reacted (risen) combine the flour and yeast mixture and knead the dough well till you get a soft elastic dough. Knead for 15 minutes.
Step 3: Cover the dough with a wet cloth and keep aside for 2 hours for rising.
For the pizza sauce
Step 4: In a wok, add sesame oil, peppercorns, ajwain and fry till you get a good aroma.
Step 5: Add in the onions and fry till they turn golden brown.
Step 6: Add half a teaspoon of salt and fry the onions.
Step 7: Add the tomatoes and fry till you get a combined chutney like mixture.
Step 8: Once the tomatoes are cooked add in another half teaspoon of salt and oregano.
Step 9: Add the coriander leaves and mix well.
Step 10: Blend this mixture into a smooth paste.
For assembling
Step 11: Mix oregano, thyme and basil in a bowl and keep aside. Preheat the oven for 10 minutes at a temperature of 200 degree centigrade.
Step 12: Punch and Knead the pizza dough for 15 minutes. Divide the dough into three equal parts. Place one part on a flat surface and roll into a 9 inch flat bread.
Step 13: Take a 10 inch plate and spread the base evenly on the plate.
Step 14: Spread the pizza sauce evenly on the pizza base leaving 1 cm gap from the edges.
Step 15: Grate the mozzarella cheese over the pizza sauce. You can add any amount depending on your choice.
Step 16: Arrange one layer of the vegetables on the pizza and sprinkle a teaspoon of the herb mixture (Optional) on top.
Step 17: Add another layer of mozzarella cheese.
Step 19: Arrange another layer of vegetables on the pizza.
Step 20: Bake the pizza in the preheated oven for 25 minutes at 200 degrees.
Step 21: Remove the pizza and let it cool. Cut into slices using a pizza cutter or knife and serve.