Being able to resort to writing about food and its goodness is a gift. Writing gives me a break from all my anguish and apprehensions with relate to my role as a mother and as a person with whole lot of dreams to fulfill. I'm sure most full – time mothers would agree with me wherein, mothering a finicky / high-strung / baby with innate curiosity to be a monotonous job, devoid of any kind of relaxation and it is quite a torment to the whole body and mind despite of all the cuteness and gestures I get to see from my baby.
To say, Krishna has changed me is an understatement. I get to view the world through his eyes, and its a process where in I have to understand him in deep and not coax him on what I intend. There were times where I had completely warded him off by virtue of his untamed behaviour and I also found myself declining in the process.
Its not uncommon where mothers go through all these behavioural issues with their kids, but it takes courage to speak out about these veracities to the world. There are so many more mothers going through acute madness with their little kids and yet they would never love to talk about it to the world. At every stage, mothering is a challenging job where you have to fulfil the needs and wants of your child in a most non – berated manner as possible.
The very phase of babyhood and childhood for a child is a very exquisite process wherein we all know the bounds of right and wrong, but when we, as parents actually enter the tunnel of growth with the kids, it gets mystified. There have been several instances where I have come to a proposition wherein I took a call that this is what is best for my baby even if the world says its not the legitimate way of child upbringing.
But when it comes to our upbringing when we were kids, I realise life wasn't so complicated during those days where we just had a black or white TV that ruled the homes. I recall what my father said to me recently, "Your Amma wasn't struggling so much when you were a kid".
Its quite intriguing how generations change and the behaviours too. Our parents' generation never had much of pshycological illnesses compared to what is cropping up today. Every other person I see is suffering from a mental hysteria that becomes unsolvable after a stage. Emotions have become the least important facets today due to the intense growth of technology indirectly. We never settle for the ordinary nor we are satisfied with things on hand and that becomes a snag for living a peaceful life. I hope to hand over my little one a less complicated world where he could treasure trove gratification in simple little things and not make life too convoluted.
Today's post has got something to do with the protein rich soya chunks / meal maker which I personally am not enamoured with. Still, one can have beautiful recipes in their kitty with these petite protein packed chunks soaked in a tasty gravy or dry curry or even cutlets and parathas. We prefer to eat these with flatbreads than rice.
Soya Chunks Dry Curry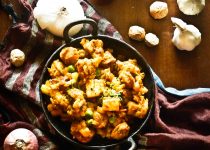 This recipe goes well alongside chapatis or rotis. You can add coconut milk to this recipe with adjustments made to the salt and spice and alter it into a wet curry.
Prep Time: 10 minutes
Cook time: 35 minutes
Yield: 3-4 servings
Ingredients:
Instructions:
Step 1: In a bowl, add 1/2 tsp of salt and hot boiling water. Add in the soya chunks and let it rest for 15 minutes.
Step 2: Once the soya chunks have absorbed the water and become softer, squeeze the excess absorbed water and keep the soya chunks aside. Drain the remaining water. (This water can be used for making soups or curries)
Step 3: In a wok, add oil and let it heat. On a medium flame, add cumin seeds and let it splutter.
Step 4: Add the onions, minced garlic and let it brown.
Step 5: Add in the tomatoes and salt. Let the tomatoes and onions cook for five to ten minutes with constant sautéing. See that you don't burn the vegetables.
Step 6: Once the tomatoes have cooked, add in the turmeric , chilli powder, garam masala. Mix well.
Step 7: Add in the soya chunks, cauliflower, green peas and give it a good mix. Let all the ingredients bind together. Close the wok with a lid and let everything cook on a low heat for ten minutes.
Step 8: Once all the vegetables have cooked well, add in the paneer, mix and cover with a lid for another ten minutes.
Step 10: Adjust the salt and spices to your content at this stage. Add in the kasuri methi and coriander leaves. Give it a good mix and serve hot with rotis/chapathis.