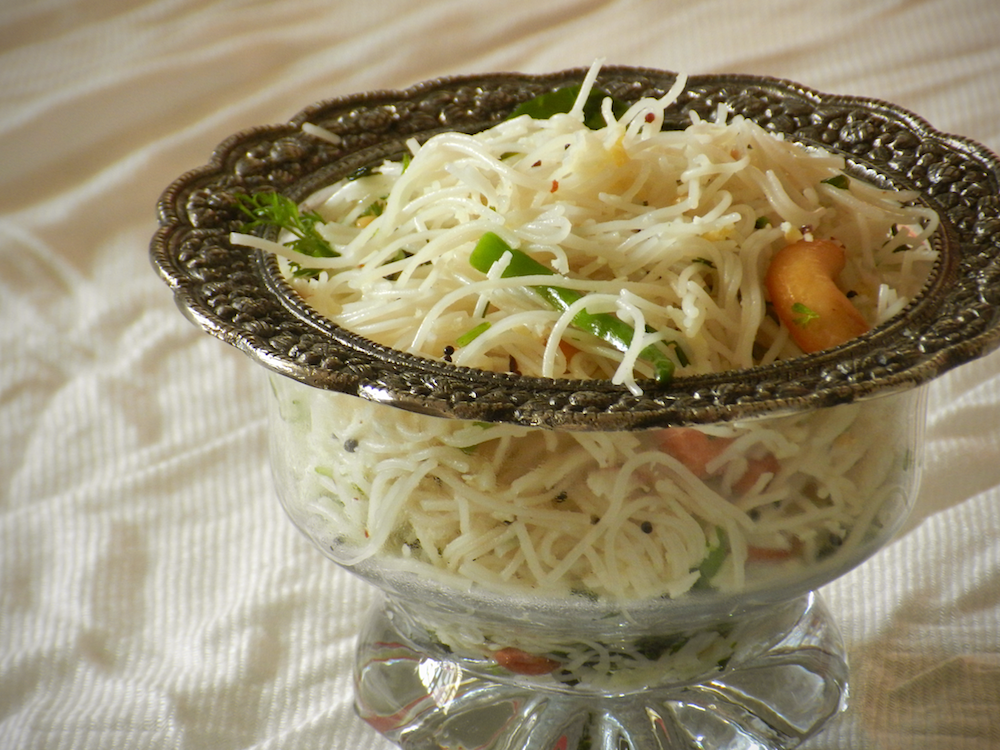 I've been dreaming about having a little kitchen garden that just meets our basic needs in our daily cooking. A lot of commitment stands in need to come up with a tiny patch of organic produce, but, the fruits of labor can be very sweet.
We weren't sure of fertility of the empty and barren patch at our place. My FIL and I started off with sowing seeds of coriander, mustard, methi (Fenugreek) and spinach. To our fortune our coriander, mustard and spinach seeds have shown us some mercy.
The soil had been left unused from a long time and filled with huge stones, making it non fertile. The plants have been taking a little longer time than normal to grow, but, watching them grow day by day is heart – warming :) We've tried planting onion bottoms and they've grown quite well, although, we haven't plucked them. Our next venture is probably going to be carrots. I'm not sure how well we would be successful. But I'm sure to put up some pictures if it turns out well.
I got hold of a lemon grass sapling from a petty shop vendor at Shimoga. The little plant took a lot of time to adapt to the soil. It grew quite well. On a very bright morning, I was taking a stroll around our experimental veggie patch; noticed that its roots are getting stronger, yet the old leaves were drying away. But still, I could see a new lace of leaf emerging from the core. To my misfortune, as I held the little plant, a huge roar from my other half at the background, "Where's my wallet?". A poor me was panic stricken and the (almost surviving) plant just came off into my hands, ripped from the roots. That was the end of my lemon grass sapling :-( So much for having a husband with a thundering tone.
I've still retained the roots of the sapling just hoping it would grow again by the time it is summer, speaking of which, it has been a year of a happy stay at Shimoga. I still haven't adapted myself to the coldest month of this place i.e. December. The evenings and nights are freezing cold and my skin has broken out inevitably. This weather calls for all kinds spicy food and ginger tea. These days, I find my self gorging on warm homemade cookies and street food.
Today's post is dedicated to a simple breakfast recipe. I remember eating "Shyavige" at many traditional ceremonies back in my hometown, Udupi, during my childhood. Then, it wasn't intriguing for me to savor an uncomplicated dish as coconut and lemon sevai. Now, it has become a matter of enjoying the simplest, yet, one of the most tasteful comfort food.
It is funny how taste buds change their preferences from time to time.
Coconut and Lemon Sevai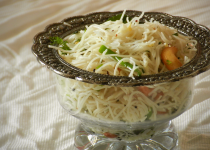 Cooked Vermicelli with a seasoning of mustard seeds, urad dal, channa dal, nuts, green chillies along with coriander Coconut and Lemon juice. Shyavige is mostly eaten for breakfast. This is best when eaten with coconut chutney.
Prep Time: 10 minutes
Cook time: 10 minutes
Yield: 2-3 servings
Ingredients:
Instructions:
[Pardon me for the fewer pictures. I'll make sure that pictures are updated soon for all the steps.]
Step 1. In a large stock pot or vessel add water let it come to a boil.
Step 2: Add vermicelli to the boiling water and let it simmer for about 2-3 minutes.
Step 3: Once the vermicelli softens, turn off the heat and drain off all the water using a colander. You could save the excess water for cooking rice.
Step 4: Once all the water is drained out, run some cold water over the cooked vermicelli. Drain out the water again. (This step is just to avoid the hot strands from sticking to each other.)
Step 5: Add salt over the vermicelli and mix well. Keep this aside.
Step 6: Heat a wok or kadai, add in coconut oil and let it heat. Add in the peanuts and roast them until they turn crispy. Remove them from off the oil and keep aside. Do the same with cashew nuts as well.
Step 7: Add in the mustard seeds. Let the seeds stop popping. Add in urad dal, channa dal, curry leaves. Let it fry for half a minute. Add in ginger, green chillies and coconut and mix everything together. Let it fry for a minute.
Step 8: Add the cooked vermicelli and coriander leaves to the above mixture and give it a good mix until all the ingredients are well combined. Turn off the heat. Add the lemon juice. Mix well. Server with coconut chutney and a cup of coffee :)