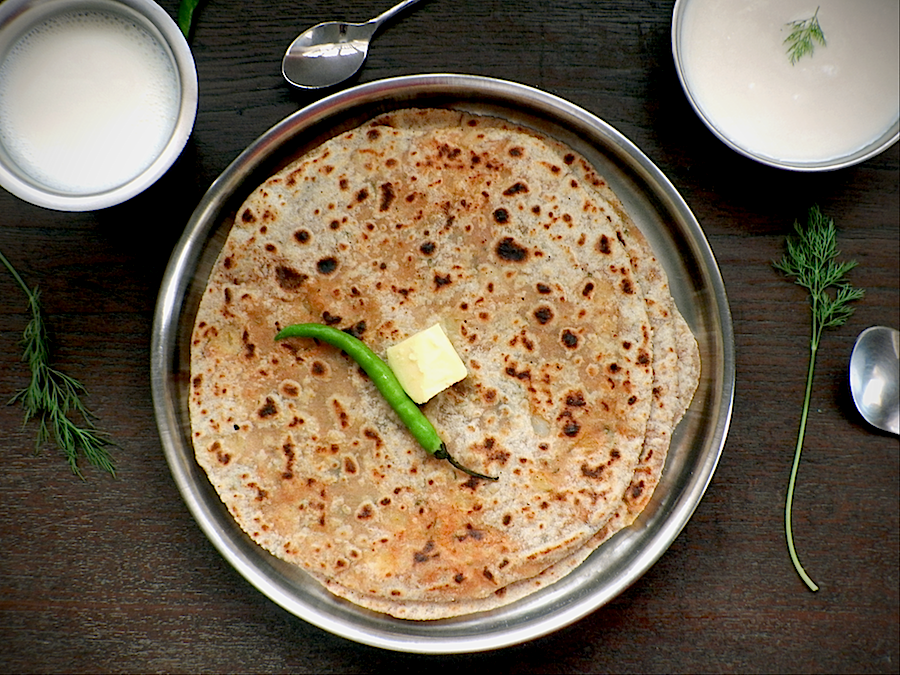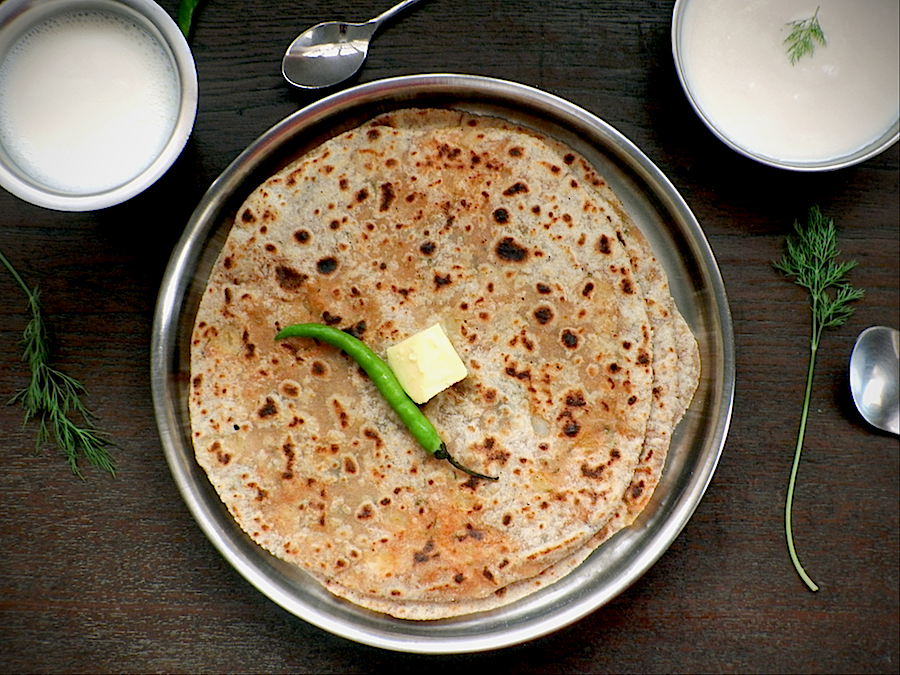 From the Vedic times, parathas have been the staple food in the southern Asian countries specially North India, Pakistan and a few regions near Burma. Even today, in a few families in India, parathas (purodhasha) are offered to Lord Agni (Fire – God) during Poojas. In fact, in south India, the homas and havanas are performed with a lot of naivedyam sweets. One of them being holige (obbattu), these are mainly flatbreads (chapathis) stuffed with lentils or a sweet mixture of jaggery and coconut.
Back in a restaurant in Mangalore, I still remember savoring really spicy aloo parathas with sweet pineapple raitha. For a person with a sweet tooth, that is comfort food. During my younger days, I used make shapeless parathas. My mother used to love them inspite of the hopeless geometric shape of those parathas I used to make. Years passed by, now being an old hand in making parathas, I wish my mother was alive today to savor them again!
There are innumerous variations of parathas / parotas / paranthas across India. In the northern parts of India, specially the Punjab regions, aloo paratha has been the prime breakfast, smeared with a dollop of butter or ghee, accompanied with cold and thick yogurt. Some more variations are with paneer (cottage cheese), palak (Spinach), methi leaves (Fenugreek leaves), gobhi (Cauliflower), mixed vegetables, mooli (Radish) and the list goes on.
Even though everybody at home loves parathas, these are just once in a month affair at my kitchen hold. I've mostly relied on mashed potatoes or methi for the stuffing. These taste best when generously smeared with salted butter or ghee. With no doubts, I add quite a good amount of ghee and butter to my parathas :) and accompany them with a spiced version of lassi. When it comes to sinful parathas like these, I really don't mind gorging on that extra dollop of ghee or butter.
Parathas smeared with ghee!
Aloo Paratha with Ghee / Butter and a Spiced Lassi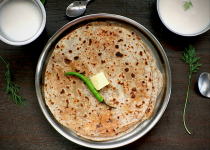 Parathas can be stuffed with variety of ingredients. You can prepare a plain potato and salt stuffing or a spiced up one. Cooked and mashed vegetables / paneer / finely chopped cauliflower will do a great job as well. Methi and Palak can work wonders.
Prep Time: 50 minutes
Cook time: 5 minutes
Yield: 10 - 12 parathas
Ingredients:
Instructions:
For the Lassi:
Combine Yoghurt, salt and crushed pepper and mix well. Refrigerate till cooled.
For the Aloo Parathas:
Step 1: Wash and slit the potatoes in halves. Cook the potatoes in a pressure cooker (Add water to cover the potatoes half-way through.)
Step 2: Once the potatoes are done, keep them aside for cooling. Once cooled, peel away the skin of the potatoes.
Step 3: To the cooked potatoes add the rest of the ingredients for the potato stuffing and mix really well till all the ingredients are well combined. Make about 10 - 12 lemon sized spheres and keep aside.
Step 4: In a mixing bowl, add the flour, salt, oil. Combine well. Add warm water little by little. Keep kneading the dough till all the ingredients come together and form a well shaped dough. Add a little more water if you feel the need. Keep aside for 10 minutes.
Step 5: Pinch about 10 to 12 lemon sized dough balls and turn them into neat spheres.
Step 6: Keep about 4-5 tbsp of wheat flour by your side. On a flat surface, roll out the dough to a 3 inch circle. Dust some flour if required. Place the potato stuffing at the center of the rolled out dough.
Step 7: Wrap all the ends of the rolled out dough and combine at the center.
Step 8: Make similar wraps with the entire mixture and dough balls. And keep them aside for at least 20 minutes. This is a very crucial step to get neatly shaped parathas without making a mess of it.
Step 9: After 20 minutes, on a flat surface roll out these wraps into a circular disc of 7" - 8". Dust some flour to ease the rolling.
Step 10: On a heated flat tawa (Griddle) heat the parathas on a medium high heat. Let the parathas cook for about 2 - 3 minutes on each side until you have brown spots on both sides. Add some ghee to both sides.
Step 11: Serve hot with a dollop of butter and Lassi.