Melt in mouth and fragrant, these butter cookies can make one hanker for more of these little monsters :) The marriage of two beautiful flavors, Vanilla and Cardamom, in cookies or cakes always give divine results. A stock of Vanilla Bean powder sachets that I had once purchased during one of my trips, had to be put to good use. The flavor of Vanilla Bean powder is so rich that I wish I could have a farm of Vanilla orchids.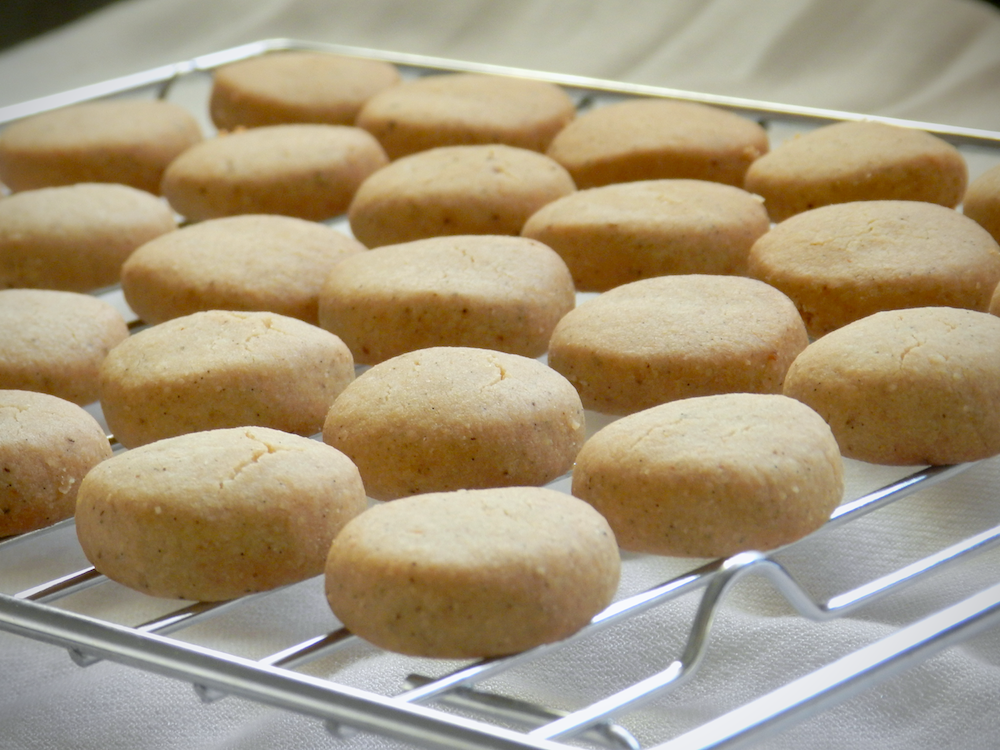 I prefer baking during the midnight's time. I find the solitude of midnights to be very apt for an activity like baking. The clock ticks through the quietness that prevails throughout the house, along with which a fragrance sets in the kitchen that makes me so happy. I was making these cookies to be packed and taken all the way to my father's place, and a few to a friend's place.
Speaking of which, the whole of previous week was spent on traveling. We had to travel to Udupi and then to Mysore. We set out on a journey on a Saturday morning to Udupi and at noon we started towards Mysore. When we began our journey, I somewhere knew that he would dart us to a lovely place on the way to Mysore. As the clock struck 7 in the evening, he drove straight into Belur city and we made a stay at Belur that night. Halebidu and Shravanabelagola were on our list as well.
Belur

On Sunday morning we set out to Belur's Chennakeshava Temple. I had no clue of what I was going to see, having visited Belur when I was really young. As I was standing face to face with the carvings and the stories depicted by the architecture, I was floored. The temples at Belur and Halebidu have the most exquisite and intricate stone-carved architectures.
Lion faced emblem of the Hoysalas at Belur

It is more than just a temple. Looking at the beautiful carvings, it appealed to me as a piece of jewelry. Who could have the patience to carve even 1% of such a masterpiece out of a stone in today's time? Getting into the detailed stories left us astonished.
The temple was built under the Hoysala reign in the 11th century. The construction was started by king Vishnuvardhana and was completed by his grandson. It took 103 years to complete the temple's carving. The temple is completely decked with labyrinthine sculptures and artistic depictions. The most prolific sculptor during those days, Amarashilpi Jakanachari, was the prime architect of all the Hoysala temples. Belur and Halebidu being the elite temples of the Hoysalas.
Halebidu

Jakanachari was born to a village, Kaidala, close to Tumkur in Karnataka. He had committed himself to art so much that he abandoned his wife soon after his marriage and departed himself completely from his past life in the name of art and sculpting. He went on to build beautiful temples for the Hoysalas and proved to be one of the best artisans in history. Meantime, his wife, whom he had abandoned, had given birth to their only son named as Dankanacharya. Dankanacharya was in search of his father. He too committed himself towards art and went on to be a famous sculptor, similar to his father.
In Belur, Dankanacharya noticed a glitch in one of the sculpted idols at the temple, originally sculpted by Jakanachari. Jakanachari, unaware of who Dankanacharya was, claimed to chop his own right hand if Dankanacharya was proved right and he was right indeed. Jakanachari, kept up to his promise and had to abide by his claim. He lost his right hand. After a series of events that took place, Jakanachari and Dankanacharya realized their relationship that of a father and son.
There is a frieze of elephants that have been given different moods throughout the bottom part of the structure. There are around 1200 such carved elephants in the entire frieze, each having a different mood. No two elephants are similar.
The second row is a frieze of Lions. The Third row is a floral carving. The fourth row has a frieze of horses. The fifth row depicts mythical stories in Ramayana and Mahabharatha. The sixth row is again a floral carving.
At the seventh row is the "Makara" which is a mythical beast. The Makara has the mouth of a Crocodile, eyes of a Monkey, ears of a Cow, body of a Pig, feet of a Lion and tail of a Peacock. The Hoysalas aspired their soldiers to have the collective qualities of a Makara.
The architecture is no doubt, one of the best in the Asian continent. I believe, the labor and creativity can never be replicated in today's world. Non can replace or match the effort put in by those blessed artisans who placed their heart and soul into their job!
Eggless Whole Wheat Vanilla and Cardamom Butter Cookies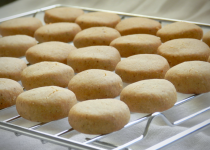 I've use a little less than a cup of powdered sugar to make these cookies since we felt it was perfectly sweetened. If you wish to, you can add a whole cup of powdered sugar.
Prep Time: 60 minutes
Cook time: 15 minutes
Yield: Around 60 Cookies
Ingredients:
Instructions:
Step 1: In a mixing bowl, whisk melted butter, powdered sugar, salt, Vanilla powder and Cardamom Powder till it gets a soft paste like consistency.
Step 2: Mix in the Wheat Flour and knead well for 10 minutes. (Do not fret if you may not be able to knead it into a firm dough.) Keep the mixture aside for 15 minutes.
NOTE: I have used finely milled wheat flour here, hence the dough has come together. If you are using store-bought flour, you'll get a crumbly mix. You can still make round shaped balls by pressing them within your palms. Press them lightly. While baking, the cookies would form cracks and stay firm. They look more beautiful this way. If you are unable to make cookies using the crumbly mix, then you could to add a 3 tablespoons of warm ghee and a teaspoon of milk.
Step 3: Prepare a baking tray by lining it with parchment paper. After 15 minutes knead the dough again well for 5 minutes. Start making round shaped cookies (About 1 inch diameter and 1/2 cm thickness) and place them on the lined baking tray. The cookies will expand while baking.
Preheat your oven at 165 Degrees Centigrade for 10 minutes.
Step 4: Bake for 15 minutes or till the cookies turn light golden in colour. (I made these cookies in two batches since I can accommodate only 30 cookies at a time in my oven.)
Step 5: Let the cookies cool on a cooling rack once they are out of the oven. Serve with a cup of tea or coffee. :)