The cold chilly days of Shimoga, specially in the mornings, urged me to start my mornings with a cup of coffee to make myself warm. For certain accounts I had quit coffee after the early part of 2012. Today I see myself sipping coffee as soon as I get out of my sleep in the morning. It is the same with him as well. Very strange as to how our habits take a twist once there is a location change or a climate change.
One dish that caresses South Indian taste-buds during these cold days is the Bisi Bele Bath. For those who are new to this name, bisi bele bath is a mix of lentils, rice and vegetables, seasoned with some additional spices and this must be served hot.
He has an infatuation towards this preparation and masters the knowledge of how it should taste and look like. I personally prefer pulavs / biriyanis when it comes to rice, but occasional indulgences into this hot lentil mix makes me happy as well.
The prime part of bisi bele bath (BBB) is the masala powder. My MIL makes one of the best BBB among what we find around us. After I got married to step into my new home, I remember Bisi Bele Bath was the first special dish that was cooked by my MIL for the family meal.
People of Karnataka do take pride to be the hosts and serve this authentic one pot meal on several occasions. The aroma is very appetizing and words may not be able to express themselves when it comes to the jolt of flavor that hits the tongue.
This post is just to adorn the importance of the masala that goes into bisi bele bath, and by now a few must have already guessed what might be my next post as well. ;)
Bisi Bele Bath Powder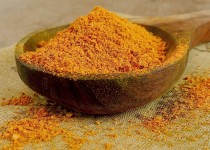 This is a recipe for bisi bele bath powder.
Prep Time: 45 minutes
Yield: 500 grams of powder
Ingredients:
Instructions:
Step 1: Dry roast all the ingredients separately on a medium heat, except the aromatic spices. Note: Roast the ingredients one by one. Roast them until you smell a good aroma. Set them aside.
Step 2: Dry roast the aromatic spices separately on a low heat. Each spice needs to be roasted for half a minute.
Step 3: Combine all the roasted ingredients together and dry roast for 1 minute. Turn off the heat.
Step 4: Wait for the roasted ingredients to cool completely.
Step 5: Grind the ingredients in a mixing jar to a fine powder. Ensure your mixing jar is completely dry and does not have any moisture.
Step 6: Store the powder in an air tight container.
Note:
1) Poppy Seeds and Asafetida are essential ingredients of the BBB masala. But in my kitchen hold, these ingredients are freshly added while making this dish.
2) If you do not wish to add all the ingredients under the "aromatic spices" section, then you may skip mace and kapok buds.