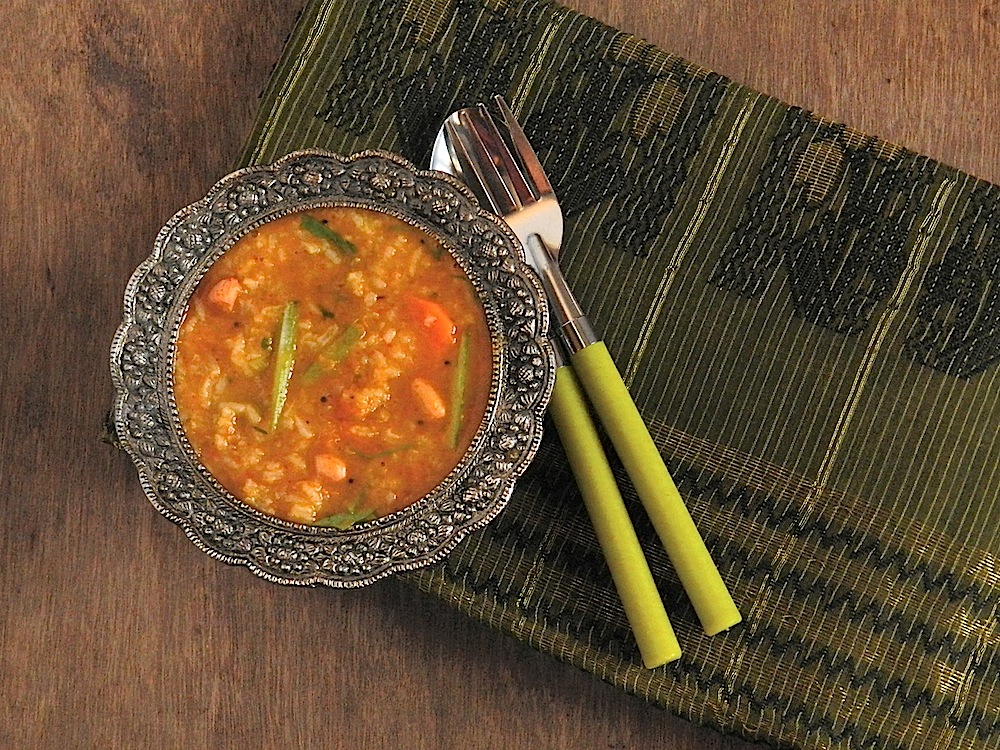 Shimoga is a hub for vegetable and fruit shopping. For a food lover like me, it is elating to go out shopping for vegetables in the early hours of the cold mornings. Recently we had been to a fruit and vegetable fair in Shimoga, and I feasted my eyes with things I had not seen in real.
Cocoa

Carved Melon

Cinnamon

Fresh Pepper (Before Drying)

Fresh Cloves (Before Drying)

White Chillies

Baby Bitter Gourd

Tapioca (Mara Genasu)

Tamarind

Little did I know as to how cocoa looked like, and I had never attempted to know its origin even once. I lag some percentage behind, when it comes awareness of facts :) When I saw the fruit in real, I just thought, all the chocolate delicacies, ice-creams, cookies and all sweet treats containing chocolate taste sinfully delicious due to this humble looking fruit.
I was even happier to spot the green form of the fragrant cloves (Lavang), that is used extensively in biriyanis / pilafs, gravies and our bisi bele bath (BBB). It was a good fair, and it was a nice opportunity for me to capture all the rare forms of recipe ingredients.
I had written about the goodness of BBB in my last post. This heart warming one pot meal deserves a lot of attention while it is being prepared. I think I have seen my MIL doing a demo for me for about 8-9 times, and still, I have to honestly admit, I cannot make it taste as good as hers ;) I tend to take hasty decisions during the process of preparation and end up modifying the flavors. If there is a slightest variation in the flavor of BBB, he shows it through his expressions. It is his pick for a lavish lunch.
Bisi Bele Bath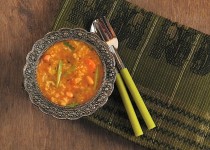 Bisi Bele Bath is a one meal made from rice, lentils and vegetables. This is generally served hot with a dollop of ghee/butter. Some even savor it with potato chips and raitha.
Prep Time: 20 minutes
Cook time: 30 minutes
Yield: 6 Servings
Ingredients:
Instructions:
Step 1: Cook the toor dal and tomato with 2 cups of water in a pressure cooker. Let the dal be cooked well. Keep this aside.
Step 2: Extract the tamarind pulp from the soaked tamarind. Keep this aside.
Step 3: In a large vessel / pressure cooker, add about 3 cups of water. To this add 4 tbsp of vegetable oil and let the water come to a boil. Once water boils add in the rice and peanuts. Let the heat be high.
Step 4: Keep the vessel covered for 5 minutes.
Step 5: Add in the vegetables except for brinjal. Add in the fenugreek / methi leaves too. Add in 3 cups of water, butter, jaggery and salt. Mix gently.
Step 6: Let the mixture come to a boil. Keep covered for 10 minutes or until all the vegetables are cooked.
Step 7: In the mean time, in a separate wok / kadai add the tamarind pulp, let this come to a boil on a high heat. Add in 8-9 teaspoons of Bisi Bele bath powder and stir well until both are combined. Let this mixture cook for about 5-7 minutes on a low heat. This is just to remove the raw smell of tamarind and the powder. Keep this aside.
Step 8: Add in the cooked toor dal and tomato. Add more water if you feel the necessity. Add the brinjal pieces. Mix gently. Let the rice be grainy. Do not over mix the mixture else the rice grains could break into bits.
Step 9: Add the tamarind + powder mixture prepared in step 7, to the rice-lentil mixture and let this come to a boil.
Step 10: Roast the poppy seeds in a small wok on a low heat for 1 minute. In a blender add in the roasted poppy seeds and grated coconut and grind to a fine paste. Add this to the bisi bele bath. Mix gently. See to it you have the rice grains unbroken. Turn off the heat.
Step 11: In a small wok add 1 tbsp of vegetable oil and heat it on a low flame. Add in the mustard seeds. Let the mustard seeds stop popping and then add the curry leaves and red chillies. After 5 seconds turn off the heat and add this seasoning to the prepared bisi bele bath.