Turmeric / Curcumin, the Golden Goddess is one of the versatile medicinal roots used in Ayurveda. There are capacious numbers of recipes and medicines which use this root in Ayurveda, which is not surprising either. Ayurveda, the 5000 year old natural healing system has a lot to give to mankind, if it is aptly adopted.
Turmeric milk is one kind of concoction that heals and brings relief during the tough days of having a running nose and an infectious throat accompanied with lack of sleep. Turmeric milk gives a lot of relief from the disturbing soreness.
It is always ideal to use turmeric in its pure form (Use roots and crush them). Adulterated turmeric causes burning and redness when applied to skin, so you need to carefully pick and choose what you are buying.
The basic recipe is to just combine milk, a teaspoon of turmeric and boil it slowly. As years passed by, the generations found better recipes to just enhance the taste and strength of this pale yellow beverage. Sweetners and peppery flavors were added to improve the recipe. Turmeric milk has proved its paramountcy by restoring my sleep and giving me relief during my "runny nose and itchy throat" days.
Some more benefits of Turmeric
1. When blood oozes out of a wound, apply pure turmeric powder on the wound. Turmeric acts as an antiseptic and it blocks the bleeding.
2. Use about 1/2 to 1 teaspoon of turmeric to curries, dals, soups, stir fried vegetables, upma or for cooking vegetables in a pressure cooker. Turmeric fights against the bad bacteria in food.
3. Use about 1 teaspoon of turmeric to clean green leafy vegetables and cauliflower. Again, in this context, turmeric helps in nullifying any bad bacterial action.
4. Turmeric has found its place even in allopathy. Medicines that are used for chemotherapy (Cancer Diagnosis) contain Curcumin / Turmeric. Turmeric acts as an agent to make the chemotherapy successful.
You can go through this website, Nutriinspector for more detailed information on Turmeric and its properties.
Turmeric Milk (An Ayurvedic Home Remedy)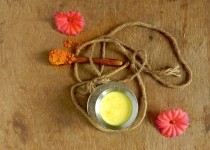 Turmeric Milk could be consumed as a daily beverage. It is best when consumed to get relief from a runny nose and an itchy throat.
Cook time: 5 minutes
Yield: 2 Servings
Ingredients:
Instructions:
Step 1: Boil milk along with turmeric powder and crushed pepper corns for 5 minutes on a low heat.
Step 2: Turn off the heat and let it come to a warm temperature. Strain the mixture through a strainer.
Step 3: Stir in the honey and serve.
Note: Do not add honey to boiling milk. It is advisable not to boil honey along with milk since honey loses its good bacteria and enzymes when it is cooked.