Let me construe to you a very dainty way of relaxation.
A couple of piping hot Pelakai Gidde (2 or 3 of them) on a steel batlu, followed by a last gidde with some midi uppinakai, and then.. some good amount of torrential rains to watch. Why not some coffee in a steel lota and dabri after a couple of stretches and washing utensils? The older generations have this thing to say everytime when jackfruits and mangoes are in season, "hasidu halasu tinnu, undu maavu tinnu", which implies, eat jackfruit when you are hungry and round off your meal with mangoes.
Panasa, a name given for Jackfruit in Sanskrit, was been mentioned in the year 400 B.C. in the Jain and Buddhist literatures along with other fruits Bananas, Coconuts, Palms, Tendu, Grapes and a few more Citrus fruits. All the more reasons, why you need to catch hold of a jackfruit when its in season because its purely an Indian origin fruit. From the Neolithic times, this fruit was being used even for making sweet vinegar using the ಕಿಣ್ವನ (ಹುದುಗುವಿಕೆ) (fermentation) method along with sugarcane juice, jaggery and jamoons. The season of Mangoes and Jackfruits get over my food and cooking. In fact, I cannot fathom eating a jackfruit just like that, without cooking fritters, appams or a gidde.
During the early 14th century Babar had made a listing of the citric fruit finds of India which included the galgal, jambiri lime, amrithphal and he went on to describe Jackfruit like (I'm quoting him exactly how he described it) a "sheep's stomach filled and stuffed, made into a gipa (haggis) which is sickeningly sweet!"
So with all the glorifications of this wondrous fruit, if you are picking a heavy jackfruit for cooking, or the one that goes into this recipe, it has to be roped down carefully from the tree and not flung down from an elevation just like how its done for coconuts. The Jackfruit has to come with well ripened 'Solegalu' (Pods/Meat). I can't stress that enough but make sure you never drop the jackfruit from even a considerable height. If you do, then be prepared for some awful bitterness clouding the dish. This is some eye-opening wisdom handed over to me by my father. But what is so different about this regular rice cake you may think. A gidde has to be made from a Jackfruit, that is completely ripened to a consistency that has soft melt in mouth lumps.
And more to this comes the addition of copious amounts of Jaggery and Coconut. Let me tell you a small anecdote of a 19th century circumstance when sugarcane growers would face the wrath and invasion of Jackals in their fields. When the cane plants were mature enough and approaching ripeness, the crops had to be protected from Jackals. Either you throw mud into the base of the plant or keep a bowl of Jaggery water at every strategic location. Jackals hate the aroma of mud or clay and the sweet jaggery is a jackal's ever favourite food. Jackals were searched and hunted down at these deliberate points.. The rest of the Jackal's family would desert the place in fear. Some more stories can be saved for a later purpose but this is our very own Mandya Jaggery in its glory and this went into the engaging course with the mellow yellow Jackfruit and coconut to become an object of an enticing palate.
And then, comes the stage setter, the wrapper Saguwani ere or the Teak leaves (Scientific name: Tectona grandis). The extract of these leaves are said to heal wounds, contain antibacterial traits, balances Vata and Kapha. When these leaves are cooked, it imparts an aroma and a colour that is enticing as well as a means to transfer all the good dyes, alkaloids and gastro-protective properties to the steaming food that is being wrapped in the leaf.
A little helpful tip I could derive from my experiences of cooking with leaves i.e. if in case you do find a banana, teak, banyan or any large edible leaf, make sure you get it home, use it instead of a normal plate. That makes things easier, healthier, its decomposable, saves washing time and water! Of course, food styling would be a great idea, to save us from the plight of disorder and shambles of dishes and props.
Pelakai Gidde / Pelakai Gatti) / Jackfruit Idlis Steamed in teak leaves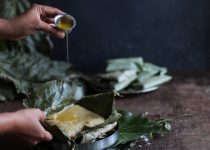 Pelakai Gatti / Gidde is a seasonal recipe cooked when ripe jackfruits are in season. These are perfect monsoon snacks/meals you could say that starts with hot ghee poured on top and is usually rounded off with pickle and coffee.
Ingredients:
Instructions:
Step 1: Wash and soak rice for about 4 hours.
Step 2: Wash the teak leaves and dry them with a towel
Step 3: Pluck out the pods of the Jackfruit, deseed and chop the pods into bite size pieces.
Step 4: In a mixie, add the Jackfruit pieces and grind to a fine paste. Scoop out the fruit puree and keep it aside.
Step 5: Add, the coconut, rice, and two cardamom pods into your mixie and NEVER add any water. Grind to a fine batter and mix this with the jackfruit puree. Lastly add the jaggery to the mixture. You can as well grind the jaggery along with the rice as well.
Step 6: Add a small pinch of salt and combine the batter well with your hands.
Step 7: Let it rest for about 10 minutes and then scoop out a portion of batter and drop it in the centre of each teak leaf.
Step 8: You can make as many as you like and store the batter for the evening or next morning maybe?
Step 9: Fold the leaf as shown in the pictures.
Step 10: Heat a steamer with almost 2 inches depth of water, place a ring or an elevation to support a flat plate. Place the folded leaves on the plate and close the steamer. Steam for 30 minutes, as jackfruits take a longer while to cook.
Step 11: After 30 minutes, serve hot with melted ghee and end a portion of gidde with midi upla (Appe midi pickle)