I was just looking into this old decrepit book that was written in the 70's, "Dictionary of Philippine folk beliefs and customs", and it says, if one finds money on the streets, he'd be poor throughout his life and if one finds a twin jackfruit seed (Pair) in a pod (The Ovary – as mentioned in the book), the finder will get lucky in business, love and in most of his/her endeavours. Now thats something! I wonder if there ever was such a thing as a twin jackfruit seed in pod.
These tantalising seeds have been life savers in Indian and Asian cuisines ever since this fruit was sighted and eaten. Life saving even as literally as healing. Drinking liquor was a universal thing from times archaic. Folks who even had no money to buy liquor, used to make their own using festered fruits and the soldiers would drink wine seethed from sprouted grains. Even women were fond of drinking, drinking with their lovers to be precise and it did cause extreme volatility even among the sturdiest people who ever lived. Hence a number of antidotes to the heavy imbiber were discovered. One included chewing a piece of ginger immediately. One more was a concoction made from ripened jackfruit seeds, tamarind, buttermilk and gruel from boiled aged rice. So, healing in a way!
If you have read the old 50's novel "Pather Panchali", a book written from a child's perspective who lived in a rural setup and the hardships he had to come across in his living, (which is in my bucket list of books to read by this year) there's a very minute mention of this life saving ingredient there again, which will stir you up if you love jackfruit seeds.
Recipes cooked from jackfruit seeds are many. All over Karnataka, people vouch for recipes made from these seeds as sustainable and simple. Obbattu, rasam, thambuli, palya, sambhar or a charred tea time snack have been some of the diversified recipes curated from this viable nutty ingredient.
With abounding seeds in hand, my mind was lurking around the Sri Lankan Kos Kariya which is a coconut milk based curry that pairs well with rice. What a mouth watering recipe that is indeed. But the recipe calls for a good lengthy pandanus leaf (rampe) which I'm still on the lookout for in Mandya. These seeds are good substitutes for chestnuts as well, meaning, an equal proportion of jackfruit seeds in place of chestnuts will do the trick.
For now it's a simple Udupi recipe from these warming seeds waiting in line below.
Kotte Thambuli (Halasina Beejada Thambuli) / Jackfruit seeds Thambuli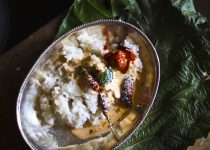 Thambuli is typically a summer recipe in the Udupi cuisine and is commonly a starter consumed before rasam/sambhar rice to increase metabolism. Thambulis are ideally fit for the gut health since it uses sour curd!
Prep Time: 15 minutes
Cook time: 15 minutes
Yield: 3-4 servings
Ingredients:
Instructions:
Step 1: Pound the washed and dried jackfruit seeds in a mortar and pestle or just a stone ans remove the white skin.
Step 2: Cook the seeds in a vessel or a pressure cooker till soft.
Step 3: Grind the seeds along with the coconut, red chillies, cumin, a little sour yoghurt and salt.
Step 4: Add this mixture to the remaining yoghurt and mix well.
Step 5: Prepare the seasoning. For the seasoning you need to heat the coconut oil in a small wok, and then add mustard seeds. Wait for it to splutter, then add, cumin, dry red chillies and curry leaves. Add the seasoning to the Thambuli. Mix well and serve with rice.