Mangalore has been a colossal chunk of my lifetime. I've lived for 24 years in this beautiful coastal city and the memories of this city are still so diverse and fresh in my mind. The people, the language, the bus journeys and travels, the food, the hotels I would frequent are still so familiar to feel.
I recall how wonderful it used to get during the monsoons when the whole city would submerge (as in not in real sense!) in the rains making it a relatively better place for people to live in after having to spend more than half of the year in humidity.
Talking of food and climate, there are these unique recipes from this coastal belt that has stirred many hearts. Well, this coastal city has the unique kind of taste buds and when it comes to the lip smacking goli bajes, nendra banana podis, pelakai gatti, moode idlis, kotte kadubus and of course the Mangalore buns, nobody can pause at one or two.
The breakfast assortments are wide and the hot buns are the most sold out stuffs in any hotel you would visit. My memories float around eating the chow chow bhaath in a hotel near Urwa Store, when I was studying my Bachelor's Degree in Engineering. Those were some really enamoured remembrances revolving around food.
The piping hot Mangalore Buns have had long existences since its discovery as far as my knowledge is concerned. These are totally enjoyed and adored by people around the world and once you buckle to the taste it leaves behind, you'll end up craving more of these.
You need the ripened, chukki baale or the pach baale for making these and apparently these are originally made from plain flour or the maida. As far as my personal cooking customs hold, I totally refrain cooking with plain flour. Even in my baking expeditions you can find me using only whole wheat flour which turns out equally amazing as well.
Although I had to let go some of of my despises and use a small portion of plain flour after the husband's constant insistence for making these golden-crispy-fluffy sweet pooris, I found that you can totally skip using the all purpose flour too and make it wholly with whole wheat flour.
This recipe which I'd be sharing is made of wheat flour and small amount of plain flour aka the maida. You can totally forget the maida and make these using plain wheat flour too. The magic stays the same.
Buns have to be served either with chutney or sambaar or both. If you love you can even savour it warm and plain! It wonderfully pairs with sagu (a vegetable gravy), and recipes like saungu (a Mangalorean tangy spicy potato curry). I paired these with some spicy amaranth leaves sambhaar which was rounded off with some hot filter coffee.
Mangalore Buns (Sweet Banana Pooris)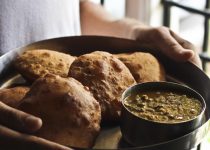 These are basically simple sweet pooris made from ripened bananas and spiced up with cumin seeds. A simple recipe for any kind of weather, this is sure to win hearts and if you plan to make these then you need to prep and knead the dough either the previous night for the next day morning or during the mid-day for the evening snack.
Prep Time: 30 minutes
Cook time: 10 minutes
Yield: 15 Buns
Ingredients:
Instructions:
Step 1: Take a bowl, peel and take three bananas, add sugar on top of it and mash with a fork in a bowl.
Step 2: To the same bowl, add the flours, salt and cumin seeds. Mix and make a dough. Add a little oil to round off the dough.
Step 3: Let the dough rest for 4 hours minimum. If you are making it or the evening, prepare the dough in the mid-day. If you want to make it for breakfast, prepare the dough the previous night.
Step 4: After the resting period, make small poori like balls and roll out slightly thicker than pooris with some flour dusting.
Step 5: Heat oil in a kadai and deep fry the pooris on both sides to make hot buns. Serve with chutney and sambhar.