During my teen years, there have been protracted, deep-rooted consciousnesses of my own self, when I used to cook during the months of time offs! The months of dog days in Mangalore were humid and I was blithely settled in one corner of the city with my parents in a mellow, petite and snug home in the coastal city of Mangalore.
All along my juvenile years, cooking was by oneself an experimental venture and unlike today, there were absolutely no coercions to cook too. It was such an intermittent affair, that it used to be a lapse, sometimes, the flavours of whatever the outcome was, were too acute and I even don't know what went into those experiments.
Of all the recipes or attempts to cook, I'd make these lovely fried potatoes which was taught to me by my sister in our early years of schooldays. Peeled and sliced potatoes are enamelled with the most elementary spices of all and bathed in semolina, just to be pan fried in ghee!
These are so enslaving, yet made in such a healthy way. This is incipiently a Goan recipe, called Batata Kaapa/Kaappa/Kaap and its likewise a favourite in Konkani homes in Mangalore. The nomenclature is a Konkani one, where 'Batata' connotes to 'Potato' and 'Kaap' is something that refers to anything that is fried. As a matter of fact, a similar recipe is even made in Maharashtra with eggplants.
These are remarkably uncomplicated to fashion and you can fascinate your children into making these alluring crusty potatoes that just goes so well with any kind of food, be it, the South Indian rasam or the Jeera Pulao.
Children would love this recipe and I can only captivate your senses through pictures. One should veritably crack forward and make this for the loved ones!
Batata Kappa/Batata Kaap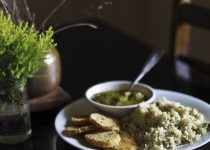 You can as well make these with eggplants and baby potatoes. you can also add some rice flour along with the chilli powder for more crunch. Though I just prefer this recipe without rice flour.
Ingredients:
Instructions:
Step 1: Wash and Peel the potatoes. Slice the potatoes to around half a centimeter thickness.
Step 2: Take the slices in a bowl and add the chilli powder, asafetida, turmeric and salt. Give it a good toss and leave the bowl aside for at-least 30 minutes.
Step 3: Give the slices a good mix. Put a cast iron griddle / pan on heat. Smear some ghee on the pan. Coat the potatoe slices with the semolina and shallow fry the slices. Add some more gee on the slices when they are being fried to golden.
Step 4: Shallow fry on both sides and cover the pan with a lid so that the potato slices cook well.
Step 5: Once both sides are golden and the potatoes are cooked from within, remove from the pan and serve immediately with your favourite meals or you can even have it as a snack with tea.