"A life without cupcakes is a life without love", is an aphorism makes things more resolved for me when my 5 year old toddler, perilously looks for hacks and videos on how a cake is baked if he's given a chance to browse on my Instagram Feed. He has already perceived the basics of cooking, and I am ought to follow the accompaniment rules while I plate his food. I am rootless if he has some penchant towards cooking or something else. It is quite hard for me to conclude his interests in betwixt and between of all his wide varied activities!
The hard times have put all of us under a different radar altogether. Most of us are found with family, cooking, baking and some more rather disoriented in between emotional blues and timeless demands from little children.
This summer seems to be a melancholy amidst the isolations and lockdowns. It barely gives an experience of the usual dog days. Apparently, my son who never makes specific requests, has got down to avowing his choices of evening snacking. Requests like "make a pizza for me amma", and "make a cake for me with a creamy frosting and some round chocolate pellets flowing on top of it" (Well, thats how he explains things to me these days), has been chewing my brains and this has been the story of every household I've been closer with!
Today's recipe is the outcome of one such request by the child. It is of a chocolate chip cupcake with simple ingredients lying around in my messed up larder. I didn't have cream in stock nor butter in stock to make the frosting. I had to make the most of the available ingredients and still make it seem alluring to the little one's fancies.
The recipe is of my simple vanilla sponge cake baked in cupcake moulds topped with chocolate chips. We ate these with candied orange peels taken from Deepa's (Paticheri's) recipe on her blog.
Eggless and Whole Wheat Vanilla Chocolate Chip Cupcakes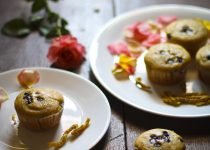 Prep Time: 30 minutes
Cook time: 30 minutes
Yield: 12-15 cupcakes
Ingredients:
Instructions:
Step 1: Preheat the oven at 170 degree centigrade for 10 minutes. Line the cup cake moulds with liners.
Step 2: In a mixie, grind the granulated sugar to a smooth powder and keep it aside.
Step 3: In a mixing bowl, add powdered sugar, oil, vanilla extract and curd. Mix it with a whisk or a blender at a lowest speed till the sugar dissolves.
Step 4: Sieve the whole wheat pastry flour, baking soda and baking powder separately.
Step 5: Add the sieved mixture to the wet ingredients. Mix with a spatula till the flour combines well. Avoid over mixing.
Step 6: If you feel the mixture is thick, add milk little by little and bring it to a cake batter consistency.
Step 7: Scoop the mixture half way through into the lined cup cake moulds.
Step 8: Bake at 170 degrees centigrade for 30 minutes.
Step 9: Remove the cakes from the oven, and let them sit for about half an hour before you un-mould it.