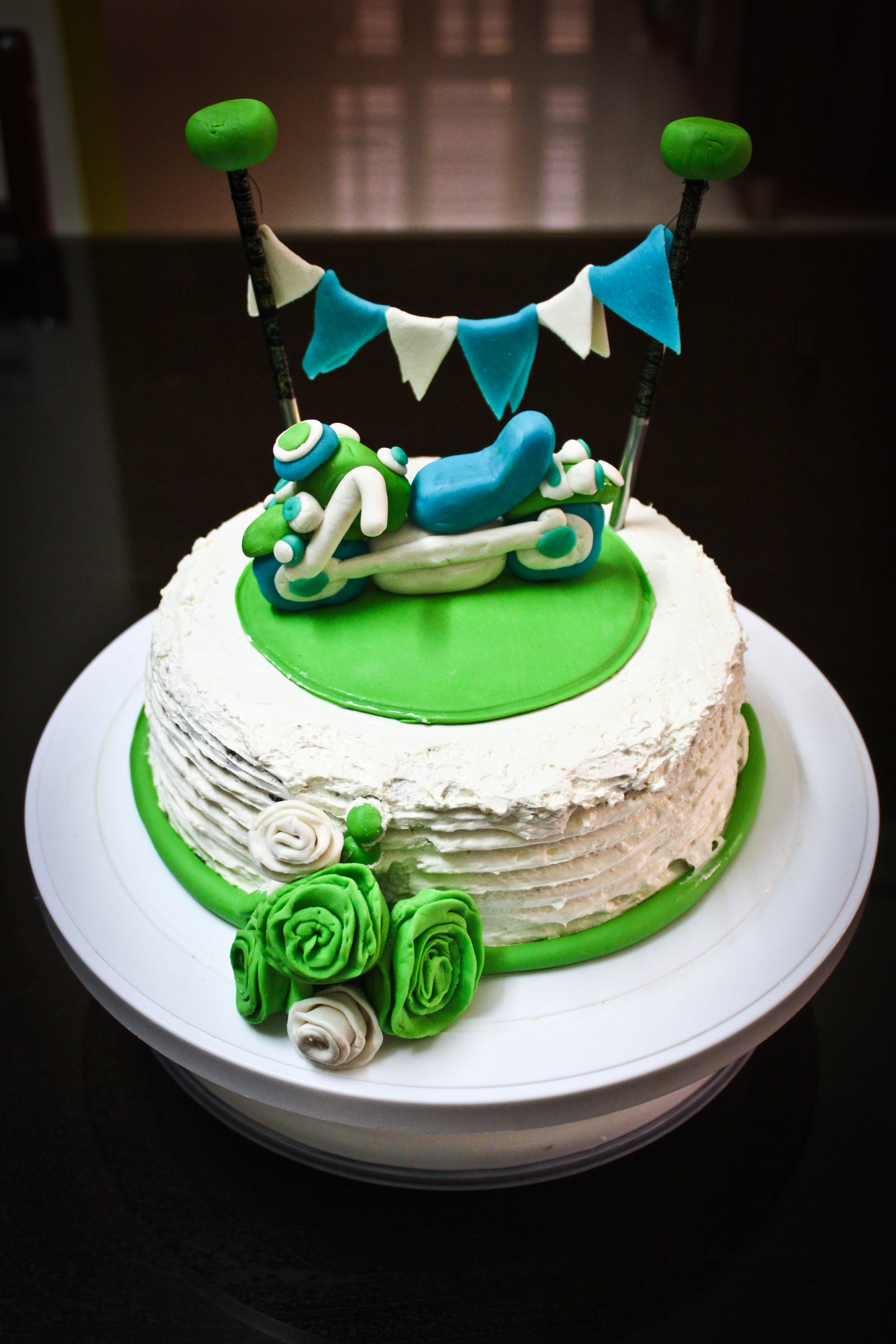 The sparkle of my being, the littlest man in my life who I owe much, Krishna, completed three years. His life has made the upheaval from babyhood to childhood. Not much has been forgotten about the way he was born on that dramatic evening three years back. At the age of 2.5 he started schooling and today, this preschooler has made me a different person altogether. A lot of bizarre experiences with this boy has made me a grown up person. Till about the age of 2 he was outspoken and never wanted to eat even the best things given to him. There was no stone let unturned by me in the effort to feed him three meals everyday and his diary portions. And then there was a sudden transition after his most tender age of 2 passed.
Today, Krishna doesn't opine on anything with regard to food or rather, he doesn't show dismay towards what is being fed to him. I'm not convinced to say that I'm a lucky mother, but, to be forthright, he blindly trusts me on this and (touch wood) we hardly have food battles these days. He still is an alien to the concept of a birthday or being a birthday boy. Invariably, I baked this year too for his birthday. It was disconcerting for me to decide on what kind of cake he would want exactly. He doesn't have a sweet tooth as other kids do. He's more of a people person, he loves playing cricket and riding his cycle. He loves his pooris, noodles and akki rotti as much as I love all things sweet.
Ludicrously, ever since his Udupi Thatha (Thats how he calls my dad) gifted him a small cycle, he has this huge bias and affinity for bikes and keys! Yes, you read it right, bikes and keys! Its a tender age for him for this attraction, and I really don't know why, but strangely, its his obsession. So this year, I themed the cake to be a fondant bike cake with some pretty fondant bunting to go with it.
If you have been following my stories on IG you might have watched some highlights of me testing an eggless sponge cake. I used Hebbar's Kitchen eggless vanilla curd cake recipe. Since I bake only with whole grains, I sourced Bob's Red Mill pastry flour and the results seemed stunning. I made a wet cake with sugar and lemon syrup, since it was supposed to be a pastry cake. The icing is a regular whipped cream frosting and I topped it with fondants from Vizyon. I have no access to whipping cream here in Mandya, hence I used the BakersWhip Whipping cream powder.
This cake got all positive reviews and its an precious experience to have baked this for my son, the best gift I've received from womanhood. Its an exhilarating feeling to have Krishna's adorers come over and dig into the slices of this eggless cake that came off the oven. I haven't shot the entire process of the cake or the making since I was running short of time. I had to literally hide the cake and the ingredients from the little boy and it was candidly a ruckus at the kitchen. I was juggling in between my baking essentials and Krishna's over enthusiastic and hyper character. I will bake this cake definitely in a short span again with the pictures and post the process too.
Working with fondants is basically an acquired skill. I took a few classes from Rasna bakes for the fondant decoration. If you are creative enough or if you have handled clay and modelled figurines, then I'm sure you can work with fondants.
Eggless Vanilla Sponge Cake (using whole wheat pastry flour)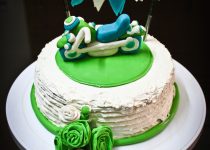 This cake can be frosted in any way you prefer. You can use buttercream or a whipped cream pastry frosting or even a chocolate ganache would go really well.
Prep Time: 30 minutes
Cook time: 30 minutes
Yield: 15 - 20
Ingredients:
Instructions:
Step 1: Preheat the oven at 170 degree centigrade for 10 minutes. Grease two 7 inch moulds and dust the moulds with a little wheat flour. Tap the excess flour.
Step 2: In a mixie, grind the granulated sugar to a smooth powder and keep it aside.
Step 3: In a mixing bowl, add powdered sugar, oil, vanilla extract and curd. Mix it with a whisk or a blender at a lowest speed till the sugar dissolves.
Step 4: Sieve the whole wheat pastry flour, baking soda and baking powder separately.
Step 5: Add the sieved mixture to the wet ingredients. Mix with a spatula till the flour combines well. Avoid over mixing.
Step 6: If you feel the mixture is thick, add milk little by little and bring it to a cake batter consistency.
Step 7: Divide the mixture into two and bake in two 7 inch baking moulds.
Step 8: Bake at 170 degrees centigrade for 30 minutes.
Step 9: Remove the cakes from the oven, and let them sit for about half an hour before you un-mould it.
For the Sugar Syrup:
Step 1: Boil sugar and water till the sugar dissolves and reduces to 3/4 of the quantity. Let it cool.
Step 2: Once it cools add the lemon juice and vanilla extract. Mix with a spoon.
For the whipped cream frosting:
Step 1: Using the highest speed of a blender, blend the whipping cream powder and milk till it forms stiff peaks. This might take 3 - 4 minutes. Note that the wiping cream powder and particularly milk is chilled.
Assembling:
Step 1: Place a vanilla sponge on a plate. Prick the sponge with a skewer. Make as many holes to make the cake seep the syrup.
Step 2: Pour half of the syrup over the cake.
Step 3: Layer some of the whipped cream frosting on top of the sponge.
Step 4: Place the second sponge over the frosting.
Step 5: Repeat through the steps 1 to 3. Frost the entire cake with the rest of the cream. You can pipe flowers or roses on the cake.
Step 6: Let it set in the refrigerator for about 6-8 hours before slicing.