Uppu Munchi, or the mensinkayi balaka has a quintessential place in the South Indian meals. I'd love one or two of these fried dry chillies served on my platter having the rice – rasam – palya combo and finally topped off with the curd rice (ale umpu/mosaranna).
Eating a balaka or eating pickle in between your meals adds to the Pungent taste element of a complete meal. This taste is the hottest of all the 6 taste elements mentioned in Ayurveda making it a digestion stimulant. It helps in clearing of nasal blockages, improves metabolism and detoxification, promotes sweating, expels gas from the body and advocates good blood circulation with muscle pain relief.
Let alone these beneficial factors, I'd just savour these for the amazing flavours it generates in the tongue with combination of the cooling curd rice.
There are basically two methods for making the balaka. One is the soaking method, where the chillies are slit open and soaked in a pool of sour curd mixed with rock salt, the other method is to fill u the slits with powdered methi seeds and salt mixture. In both the methods, you'd need to sun dry the chillies immediately after marination.
This season has been fruitful in our ventures of sun-drying and pickling and my stocks have gone empty again with a few batches of pickle to relish. You can say I'm obsessed with all the long established practices more than the recent kinds of adapted cuisines. These cuisines have kept my soul so happy that I now even know what I need to eat to pick myself up during some of my distorted days!
Sun-Dried Green Chillies / Mensinkai Balaka / Sandige Mensinkayi (Menthya - Salt Method)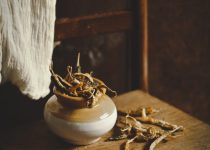 This is the dry method of making the Balaka or Uppu Mensinkai. I'll post another recipe of how its marinated in a pool of sour curd and sun - dried.
Ingredients:
Instructions:
Step 1: Slit all the green Chillies and make a pocket for the filling
Step 2: Dry roast the methi seeds and rock salt. After it cools down, grind it to a fine powder. Mix a little sour curd to make it a paste. This is your filling.
Step 3: Fill in all the green chillies with the above mixture.
Step 4: Place them on a plate and sun dry these for a good number of days under direct sunlight till the chillies turn crisp.
Step 5: For savouring these, you need to fry these in coconut oil till it turns black. Add it as a tadka to curd rice or savour this alongside your meals.