The name, "Sajjige Bajil" churns an array of emotions in my heart. I've been pining to shoot for this recipe and share all that goes into this beautiful combination of spices. The memories stringing to this breakfast is so fresh and still beckons me to the old places I used to frequent in Mangalore and Udupi. The temples serving this have perfected the recipe of Bajil with their eclectic methods of cooking and ingredient selections. The spices used here are traditionally hand pounded but you can even pulse the spices in a blender.
Sajjige Bajil is combination breakfast prepared in the wee hours of most of the festive occasions and is most enjoyable with friends by your side and a cup of steaming hot filter coffee. Udupi is loveable for all good and beautiful reasons. The weather being a notorious sport, still I'd vouch that the region's humidity has the best things to offer. I lived there with lesser skin and hair issues, people end up with lesser joint aches, lesser number of times of falling prey to stuffy noses and more toxin excretion through sweat. A lot of jaggery consumption makes it easy to take the broiled elements of Udupi/Mangalore.
The recipe of Bajil is more of a balance between the sweetness of Jaggery with the aromatic and peppery flavours of the pounded spices. The Sajjige is the simplest of all Upmas made with rava, fresh coconut and no onions. Both are offered on a plate in equal proportions and the morsels are eaten by mixing the two in small quantities. Most of the people back in Mangalore/Udupi start their days with this breakfast combo and Bajil with Sajjige is a wonderful energiser. It even keeps you full for a long period and you can count on this recipe even on your fasting days!
Sajjige Bajil (A typical traditional Tulunadu breakfast)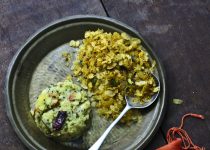 Sajjige is nothing but a no onion upma made with a simple seasoning and lots of fresh coconut. The Bajil is a rather hot and sweet savoury recipe made to complement the subtleness of the Sajjige. I find this combination best eaten with a delicious and slightly watery coconut coriander chutney made with green chillies.
Prep Time: 30 minutes
Cook time: 20 minutes
Yield: 4-5 servings
Ingredients:
Instructions:
Step 1: In a wok roast the spices altogether with 1 tsp of coconut oil (No need of separately roasting it because of the lesser quantities).
Step 2: Once the spices cool, put them in a mortar and pound them with a pestle. This might take 20 minutes. Alternatively you can blend it in a mixie too.
Step 3: In a wok, prepare the seasoning. Add coconut oil, mustard seeds, asafoetida, curry leaves and dry red chillies. Fry them lightly till the mustard seeds stopping popping around.
Step 4: Turn off the heat, add salt, turmeric powder, jaggery, grated coconut and the pounded spice mix. Mix it.
Step 5: Add the rice flakes and toss well till the spices blend well with the flakes.
For the Sajjige
Step 1: In a wok, prepare the seasoning. Add coconut oil, mustard seeds. Once the mustard seeds stop popping, add the urad dal, channa dal, curry leaves, green chillies, turmeric and byadgi. Fry these for a while till the urad turns golden yellow.
Step 2: Next add the cashews and semolina. Fry till the cashews just turn golden.
Step 3: Add the coconut and coriander.
Step 4: Add the tomatoes at this point if you are using this ingredient. Else skip and add salt and hot water.
Step 5: Mix and shut the wok with a lid.
Step 6: After a minute or two, or once the sajjige (upma) is cooked, add the coconut and lime juice (lime juice is optional) to the sajjige and mix well. You can add coriander for garnishing. Serve hot with Bajil and coriander chutney.