Ever since last summer, I've been into this therapeutic activity of pickling and sun-drying . I'm a little apologetic about my endeavour to share a sun-dried delicacy during this drizzly month of August, but you can certainly give it a try if you have some sunlight blessing you.
This year mother nature has taught her fair share of lesson to mankind by not being so considerate with rains at the beginning of June! We had lesser rains which has resulted more of disastrous crop supply too. Two months later, i.e. right now, we have rains showering from every possible corner of the skies. I cannot even imagine the plight of the farming sectors with such haphazard weather conditions.
This monsoon season, I have re- organised my dream container garden with a much better approach and hopefully, if I get a good harvest I can showcase my plant babies someday here. The rains make it a lot more easier for a gardener. What keeps me busy are the tiny saplings which need so much care from me right now.
Moving a little step further, seeing the people around me suffer from loss of the most important resource, i.e. water in the last few months (Although, with nature getting furious and things getting out of control, we have floods throughout my state) I intend to share a small dream of mine which has kindled because of a lot of experiences that happened over a few months. Very inspired by simple and a minimalistic living, I see myself nurturing a whole lot of fruit trees, vegetable bearing plants and playing with garden soil in the near future.
Photography, writing and cooking has been lining my inner spirits, but this small dream of mine got nurtured only because I want this sentiment to get rubbed off to my son. I wish to see him appreciate the value of the resources we use for our pleasure. I wish he understands what we are actually striving for.
It must not be forgotten that we actually strive and work for Food, Shelter and Clothing! It is futile to accumulate all the hard earned wages and a beautiful house if you have no water to even quench thirst!
Under all these months of whimpering about the lack of rains and too much of sunlight (Lot of sunlight is actually quintessential for the photographer in me!), I ventured into more sun-drying and pickling. Im sharing my most favourite recipe for sun-dried bitter gourds and potatoes.
Sun-Dried Potato Chips and Sun Dried Bitter Gourd Chips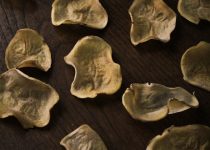 Prep Time: 60 minutes
Cook time: 5 minutes
Yield: 1 box of chips
Ingredients:
Instructions:
Sun-Dried Potato Chips
Step 1: Use a Mandoline Chips Slicer and slice the potatoes.
Step 2: In a wok, add salt and water. Let it come to a rolling boil.
Step 3: Add the potato slices into the wok (batch wise) and let it stay there for half a minute. Remove and place them on a plate. Do this for all the batches of slices.
Step 4: Now arrange the cooked slices on a food grade sheets or plates. (Remember not to use low grade plastic sheets else you'll end up with toxic slices of chips.) Sun dry these for two - four days depending on how sunny it is. On the first day the slices will fold up. Once it folds up take them off and sun-dry them on plates the next day onwards.
Do not throw away the remaining salted water. Re-use the remaining water to make soups or you can make a pachadi(Raitha) from it by adding curd and some seasoning.
Step 6: Once completely dry and crisp, store them in air tight containers. Deep-fry before savouring these.
Bitter Gourd - Chips/Fryums
Step 1: Slice the bitter gourds add table salt over them, mix them with your hands, and sun dry them in a way similar to the potatoes.
Step 2: Once completely dry and crisp, store them in air tight containers. Deep-fry before savouring these.