All of my struggles and skirmishes with time, tasks and my advent to create more recipes, bring up a lot of vegetables in my garden, get the best out of my camera, exposing my little kid to all sorts of adventures and travels, boils down to ambivalences of life and its irresolutenesses. If this is not a reason good enough to push someone away from their comfort zone, then I don't know what is!
Of-late my experiences have led to many realisations and one life is just a chance for us to be kind and spread love and positivity to the humanity. I was just reading a paraphrase from the Gita when I started getting vague thoughts on what would we ever do with the materialistic impedimenta we crave for afterlife? What is the substantial purpose of earning these profane baggages? There is beautiful answer in the Gita, in the 3rd Chapter, which speaks of the Karma Yoga for these inquisitions of the mind and that is why, I have come across a few folks who have endorsed this book as an answer to almost all our questions and anxieties of the heart.
The Gita says, (This is from the Bhagavad Gita As It Is written by A. C. Bhaktivedanta Swami Prabhupada)
ye me matam idam nityam
anutisthanti manavah
sraddhavanto 'nasuyanto
mucyante te 'pi karmabhih
which translates to,
One who executes his duties according to my injunctions and who follows this teaching faithfully, without envy, becomes free from the bondage of fruitive actions.

Because one is not resentful of this principle and works sincerely without consideration of defeat and hopelessness, he will surely be promoted to the stage of pure Krsna consciousness, which means, he will be free from any kind of distresses of the Karma.
The chapter 3 of the Gita is a real eye – opener for the cult who is going through the daily crisis of ciphering the purpose of the very life we are leading. We have every liberty to choose what we do with our lives. But sooner or later this realisation will unquestionably blow into almost every sane person's mind, which is a good thing to happen. This realisation will change the approach of every thought process. It'll make you a better human which is the ultimate goal of mankind.
My recipe for this blog post is nowhere associated to what I wrote about, but I really wanted to write about more of my learnings in these recent months. Being spiritual has got more to do to a person's good behaviour and thoughts and not about forcibly imposing a practice on somebody who is not truly ready for the change.
My recipe for today dates back to a month ago, where I stopped by a Udupi Restaurant in Mandya, which served this flavourful Bhaath, which the cook apparently named as Vegetable Biriyani. I couldn't resist but approach the cook himself and ask him for the recipe. He obliged and generously passed on the recipe to me with exact measurements.
Restaurant Style Spicy Vegetable Bhaath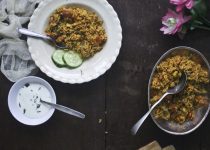 The very base of this recipe is the gravy / the ground masala paste. This masala paste can also be added to gravies and whipped up to make spicy sides for parathas and chapathis.
Prep Time: 30 minutes
Cook time: 15 minutes
Yield: 4
Ingredients:
Instructions:
Step 1: In a large wok, add a good about of butter or oil and fry the bread croutons till golden brown. Do the same with paneer as well. Cut them into cubes and deep fry them in a little butter or ghee. Keep them aside.
For the masala paste:
Step 2: In a wok add a tsp of ghee and fry the sesame and pumpkin seeds till they turn golden brown. Keep aside and let it cool.
Step 3: In the same wok fry the onions, cloves, cinnamon, cardamom pods, shahi jeera and coriander seeds on a low flame very slowly till the onions turn golden brown. Keep it aside and let it cool.
Step 4: Grind both these fried ingredients along with cashews in a mixie jar to a fine paste adding a little water. This is the base gravy for the bhaath.
For the Bhaath
Step 5: In a pressure cooker add vegetable oil, and on a low heat, add the whole spices i.e. cardamom, cinnamon, cloves, stone flower and kapok buds.
Step 6: Add the vegetables and ground mixture to the wok and give it a good saute.
Step 6: Add the chopped vegetables and rice. Mix well.
Step 7: Add salt, garam masala, chilli powder and turmeric. Give it another mix.
Step 7: Add water and pressure cook for one or two whistles and turn off the heat.
Step 8: Once the pressure releases from the cooker and fluff the grains of the Bhaath with a fork. Serve hot with raitha.