Summers are at its peak this year, even a town like Mandya feels more hotter than my native town Udupi. Being acquainted to the hottest summers of the coastal belt, I find it relatively easy to sail through the summers of these regions. I have very few memories of my mother making pickles and fryums (sandiges) during summers.
Even to this day I can remember her midi mavinkai (baby green mango pickle) which she would save in a Bharani (a large ceramic jar) every year when mangoes were in season. For various reasons her pickling interests and her sandige (fryums) making abilities slowly ceased and she abruptly gave it a halt making way for store bought pickles and papads from then on.
After about 7 years post marriage, I ventured into pickling. To begin with I went for the instant kind of pickling. This process has become a favourite activity for me ever since I chanced on these sour baby oranges in the Mandya farmers market. Bringing these home, I noticed that these tart oranges can never be consumed as is, if otherwise, I had to extract the juices, add a large amount of sweetener to balance the tartness of these oranges.
By taste, these oranges were no less than lemons. I ended up pickling these beautiful oranges. If you love heralekai or bitter lime, then this pickle will win you. This recipe applies to Citron (Bitter Lime) or lemons as well. I have used organic Jaggery in this recipe and you can adjust the spices and salt as per your choice.
Sour Baby Orange Pickle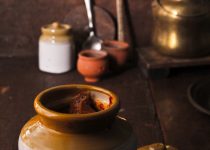 You can skip the jaggery in this recipe if you only want it to be just savoury. Else, adding jaggery enhances the taste of the pickle. You must adjust the chilli powder and salt if you aren't adding any jaggery. Please be very careful while adding chilli powder to this recipe.
This pickle keeps well for a good number of months in the refrigerator. Its been 3 months since made this pickle.
You can use citron or bitter lime for this as well. Use the same process.
Prep Time: 30 minutes
Cook time: 30 minutes
Yield: 2 jars
Ingredients:
Instructions:
Step 1: Cut the oranges in half, remove the seeds as much as possible and put it in a vessel as shown. Squeeze the juices of around four oranges into the same vessel and put the squeezed orange peel back into the same vessel. Add the turmeric powder. Mix a little. Close the vessel with a lid and place a stone or a weight on the plate.
Step 2: In a pressure cooker add some water to about 2 inches and immerse the vessel of cut oranges into the cooker. Pressure cook these for about 4-5 whistles. See to it that the oranges are cooked well.
Step 3: In the meanwhile, roast the methi seeds and mustard seeds in a small wok. Let it cool. Grind these into a fine powder.
Step 4: Once the cooker cools down, chop the cooked oranges into bite sized pieces and keep aside. The juices will start oozing, so save the juices to added to the pickle.
Step 5: In a wok, add the sesame oil, once the oil heats, add the mustard seeds and asafetida (hing).
Step 6: Let the seeds splutter and then add the chopped oranges with the juices, jaggery, methi + mustard powder and salt and mix well till the salt dissolves.
Step 7: Next add the chilli powder 1 table spoon at a time, mix well and check the hotness of the pickle. If its too hot then you can stop adding more. (You need to be careful here if you are planning to skip jaggery). I found that adding 6 tbsp gave it the required hotness. You can adjust accordingly.
Step 8: Let the whole mixture come to a boil and turn off the flame. Let it cool. Pour the pickle into glass jars and refrigerate.