Tarts have come a long way in my experience and I can vouch to make a decent tasting tart when there's a need to make one. My no bake chocolate tart recipe came as a hit among a few of my readers. The next time, I was compelled to try a tart using Pineapple as the ingredient. Playing with flavours is something you need to be creative at if you want to come up with desserts like these.
This tart calls for the simplest ingredients. The base is a whole wheat biscuit and butter crumb base. The filling is an easy white chocolate and cream recipe. I was a little sceptical to use Pineapple for the glaze, since it could sometimes turn bitter making everything taste awful. But I had to somehow find a way through it.
For the glaze, I made a compote from chopped Pineapple, added cornstarch, lime and sugar to retain the taste and properties of the Pineapple. This recipe of the glaze ensures that the flavour of the Pineapple remains intact after several hours of refrigeration.
Finally, the first taste of the tart was a surprise for me. Pineapple, when coupled with a creamy layer of white chocolate cream filling and the crusty tart base, throws out a burst of flavours. A bite and then it gets quite addictive, naturally. This tart is not for the weak hearted ones. ;)
If you have an event to host, or a loved one to entertain, I'm sure this tart is just meant for you.
Eggless No Bake Cream Tart with Pineapple Glaze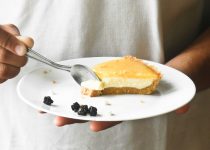 Please note that you need to make the tart on the first day, let it chill, and the glaze must be prepared only on the second day once the tart filling is fully set.
This recipe calls for easily available ingredients. Ensure that you use good quality fresh cream for this recipe. You can serve this tart with berries or whipped cream. Blueberries are my favourite, so I've used them.
Prep Time: 60 minutes
Cook time: 20 minutes
Yield: 7-8 servings
Ingredients:
Instructions:
Day 1:
For the tart base and filling
Step 1: In a blender or food processor, add the biscuits and grind them to a fine mixture.
Step 2: Add 100 gm of melted to the mixture and give it one pulse. Don't grind it completely. Alternatively you can take out the Biscuit crumb mixture into a bowl and mix in the melted butter. The mixture must resemble wet sand.
Step 3: Add this biscuit crumb mixture into a tart pan and press the mixture alongside the sides of the tart pan with the back of a spoon to form a base crust. Refrigerate this for 15 minutes till the base is firm.
Step 4: While the base is cooling, prepare the filling. In a wok, on a low heat add 1/4 cup of butter and let it melt. Add condensed milk, fresh cream and mix well with a whisk.
Step 5: Keep stirring till the mixture thickens. This might take about ten minutes or more. Then add the white chocolate and vanilla extract. Turn off the heat and let it rest.
Step 6: After the mixture cools down, tip this mixture into the chilled tart pan till the pan fills up.
Step 7: Refrigerate until set or for 8 to 10 hours.
Day 2:
For the Pineapple glaze:
Step 8: In a saucepan, add sugar, corn flour, water and whisk well.
Step 9: Add in the chopped pineapple pieces, cover and cook the entire mixture on a low heat for 15 minutes. Let the pineapples loosen out their juices. If you feel that the mixture is too thick you can add 1-2 tablespoons of water. Add the juice of half a lemon and set side for cooling.
Step 10: Once the mixture has come to room temperature, blend the entire mixture to a smooth puree.
Step 11: Pour this puree over the set tart carefully. If there is extra puree left over, you can serve it as a topping for ice creams too. (Tart pan seems out of shape. Courtesy: My toddler :P )
Step 12: Refrigerate until set or for 8 to 10 hours.
Step 13: After the tart has completely set loosen the tart from the pan. Start from the sides first. Cut and Serve chilled with berries or whipped cream or ice cream.