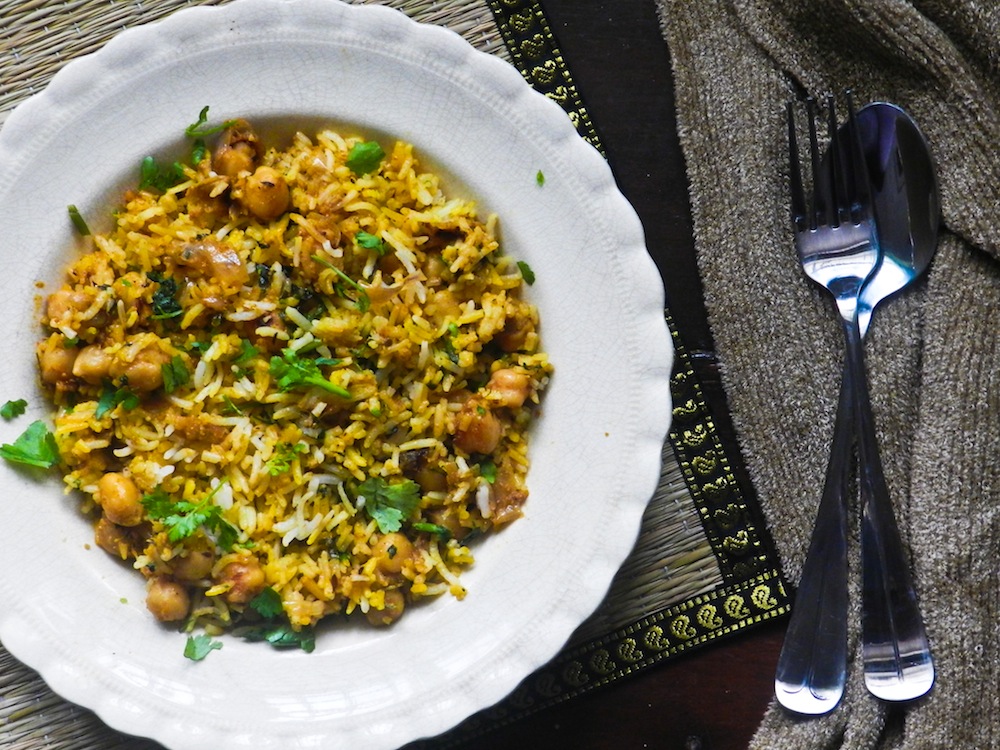 Rice and its derivatives have always topped my list of favorites when it comes to lunch recipes. I still remember the spicy rich vegetarian biriyani I had savoured from a local biriyani vendor in Bangalore. Such delicacies are just simply fit for kings. The first biriyani I made was the vegetable biriyani which is loved by all. One delectable biriyani recipe in a home maker's repertoire is a must.
Recently I chanced upon a biriyani recipe made from Channa (Kabul Channa) on a TV show. I tweaked the recipe to my convenience and it was indeed the most tastiest channa biriyani I have ever had. Soaked and boiled Kabul Channa on its own has its own magical taste. When this is again used in a biriyani, I tastes even more pleasant.
Making biriyani is always laborious and always begs for vast variety of ingredients and flavorings too. This recipe also is one such. But let me tell you, every minute you spend on making this biriyani will leave you happy and satisfied at the end.
To be honest I was skeptical about my own taste buds though my husband too relishes my recipes. So to be double sure about this recipe I passed a box of this biriyani to my neighbour one afternoon as we usually keep exchanging our home cooked specialities with each other. To my surprise she came home the very next day and said that she loved the biriyani very much and took down the recipe too.
This recipe is more on the spicier side. Whenever I would have the time and tummies to fill, this recipe would be on the cards always.
Channa Biriyani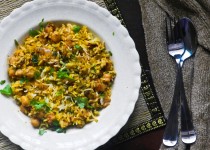 You can add fried paneer, cashew nuts or mushrooms for more texture. Serve this biriyani with your favorite raitha.
Prep Time: 30 minutes
Cook time: 45 minutes
Yield: 4-5 servings
Ingredients:
Instructions:
Step 1: Grind all the ingredients mentioned under "Ground Masala" and keep aside.
Step 2: In a pressure cooker add the Kabul Channa and Half Cup of water and 0.5 tsp of salt. Cook until 3 to 4 whistles. Keep this aside.
For the rice:
Step 3: In a Rice Cooker or a Cooking pot, Add 2.5 Cups of water, 1 tbsp of Elaichi, Mint Leaves and Salt. On a high heat let the water begin to boil. Once the water boils add in the rice and cook on a low heat. Cook until the rice is 3/4 cooked. Keep this aside.
For the gravy:
Step 4: In a stock pot on a low heat add in the oil and ghee, once the fats start heating add in the whole spices. Let them roast till the cloves puff up. Add in the onions and saute till they turn translucent. Next add in the ground masala Paste and cook every thing on a low heat till the oil starts leaving the sides of the pot.
Step 5: Next add in the cooked Kabul Channa along with the water left in the pressure cooker (if any). Cook until all the ingredients combine well.
Step 6: Add in the red chilli powder and garam masala. Mix well.
Step 7: Next add in the fresh cream, mix well. Cook for five more minutes. Add in 1 tsp of salt now. Check the seasoning. Add more salt, cream or red chilli powder if you desire.
Assembling:
Step 8: Turn off the heat. Layer the cooked rice on the top of the gravy. Add in the Saffron milk on top and fresh coriander leaves.
Step 9: Turn on the heat, cover with a lid and slow cook this on a lowest heat for ten minutes without disturbing.
Step 10: After ten minutes, turn off the heat and the biriyani is ready to be served. You can serve this with cucumber mint raitha or onion raitha.