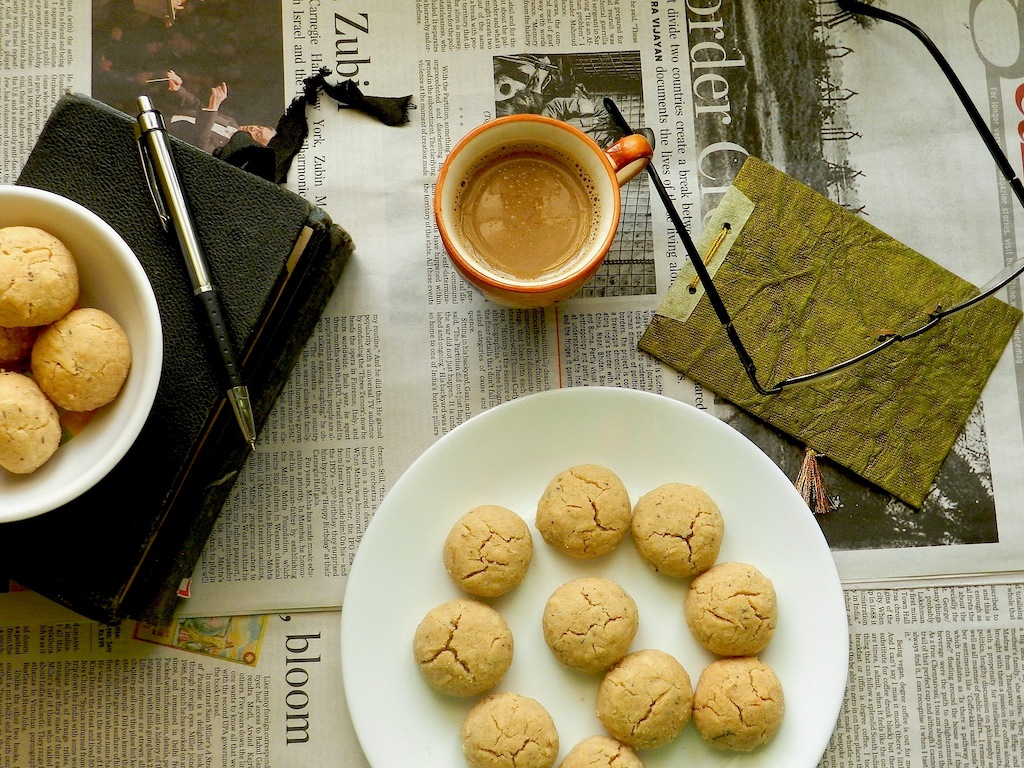 I always have a lot of stories running in mind to narrate, when I begin writing. Memories are scanned through and I love to pick little details from what I remember. The depth of thoughts never comes otherwise. Its only when I sit down and free my mind of worries and my list of little incomplete tasks that keep bothering me every time, I can completely devote my thoughts and ideas to my work.
On a similar note, when I began to write about cookies, I could recall myself watching the "Cookie Monster" television series from Sesame Street, during my younger days. People who are with me can recall his two famous phrases, "Me want cookie.. Me eat cookie..". His language and vocabulary seemed quite odd. Yet, he would have some beautiful phrases to say as well. My favorite one being, "Sometimes me think, "What is Friend?" and then me say, "Friend is someone to share the last cookie with." I'm not sure if the series still runs even today. And I still wonder if there is the same kind of storyline as it used to be like earlier.
My choices were limited to very few television channels during those days (around 15 to 17 years back). Still, I loved watching my favorite shows as soon as summer vacations would commence. The early onset of monsoons during May was the season I enjoyed the most whilst I played around with books, friends and toys. :)
Time has taken me to a place where I can sit back and recall these little aspects and smile while my priorities and choices have changed drastically. I still laugh at myself for being very odd with my choices of shows I used watch. Today, I hardly watch the TV, which is a good thing. If I do, I would be switching between cookery and travel shows. (When the husband is not around of-course!)
These cookies were made really a long time back, when there were too many dried coconuts lying unused at the freezer.
Being an old hand at baking using wheat flour, just a little bit of assumptions worked just right for the recipe. I had my hands on good, firm, and mildly sweetened coconut cookies.
Eggless Whole Wheat Coconut Biscuits or Cookies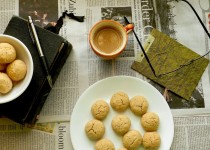 These biscuits / cookies are best served with tea or coffee. I've made it taste mild and subtle. You can add more flavoring i.e. a bit of ginger or nutmeg.
Prep Time: 15 minutes
Cook time: 15 minutes
Yield: 40 cookies
Ingredients:
Instructions:
Step 1: Whisk the butter and sugar in a mixing bowl till all the sugar melts. In the mean time pre heat your oven to 165 degree centigrade for 10 minutes.
Step 2: Add in the Wheat flour, Coconut, Cardamom Powder, Baking Soda, Salt and mix well using your hands. (You could use a good stand mixer as well.)
Step 3: You will get a crumbly mixture as follows (Pardon me on the red flash light in the picture.) But you can still form round shaped cookies as shown in the pictures. If you still cannot form cookies add 1 or 2 tablespoons of ghee / butter and a teaspoon of milk.
Step 4: Line a baking tray with parchment sheet and place the shaped cookies on the sheet.
Step 5: Bake for 15 minutes at 165 degree centigrade or until they are crisp. (If you bake them for 10 minutes you would get chewy cookies, which tastes great as well).
Step 6: Place the cookies on a cooling rack and store in air tight containers.