Summer is the most exhilarating season for me. It brings along the most awaited fruit of the year, Mangoes! Be it the local produce or the king of Mangoes, the Alphonso, these creamy fruits could be just devoured in large amounts by most of the people who go crazy about this fruit.
I was more excited this season because I had a hunch that we might be able to savor the exotic Mangoes that grow in Shimoga. My dream came true when an article appeared on the newspaper that linked to www.malnadmangoes.com. The Mango orchard is quite close to the place where we stay (Outskirts of Shimoga) and is called by the name Aphrodite's Orchard owned and maintained by Mr. Raheel. The day we visited his orchard we were hosted well by Mr. Hameed, his brother. Unfortunately I didn't take my wonderful companion (my camera) along. How I wish I could take some pictures of the vast and pretty Mango orchard! One must appreciate the owner's effort to satisfy the needs of Mango lovers.
The day I had been to the orchard for the Mango picking, the Alphonso Mangoes were just harvested. I was happy to notice that the ripening process of Mangoes was a natural one. The Mangoes were harvested, covered with hay and left to ripen. My eyes were stuck on those beauties and for a moment I wanted take all of them home. Eventually we only bought a few kilos. :P
I decided to bake a cake with these Mangoes. I wasn't certain as to how it could taste with wheat flour. Cardamom and whole wheat make a good pair in terms of flavor. I used this trick and measurements were adjusted.
The cake was done in no time and was tested by him. He went for a another slice thereafter and I was sure that I had made no mistake using whole wheat flour, Mango and cardamom in a cake.
For every Summer season this cake could be baked just for celebrating the goodness of Mangoes!
Eggless Whole Wheat, Mango and Cardamom Cake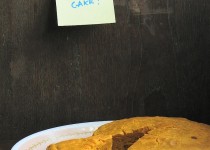 This cake is an eggless version of a whole wheat and cardamom cake. I liked to eat it plain, but you could top it with chocolate syrup or ganache too.
Prep Time: 30 minutes
Cook time: 30 minutes
Yield: 8 servings
Ingredients:
Instructions:
Step 1: Grease the cake tin with oil. Dust with flour and tap the excess flour off the tin. Keep the cake tin aside
Step 2: Pre-Heat the oven to 180°C / 350°F for 10 minutes.
Step 3: Sift the Wheat flour, baking powder, baking soda at least three times. Assemble all the dry ingredients in a mixing bowl.
Step 4: In a separate bowl mix Mango puree, oil, vanilla extract, milk and jaggery using a whisk. Add this liquid mixture to the flour mixture. Mix gently with a spoon or spatula. Do not over mix just fold in. Avoid using a beater for this. You could add a few tablespoons of milk if you feel that the batter is too tight.
Step 5: Pour the batter into the prepared cake tin and tap the tin on the counter to ensure the batter levels out and all the trapped air bubbles escape.
Step 6: Bake in a pre heated oven for 180°C / 350°F for 20-25 minutes or bake until a toothpick inserted into the center of the cake comes out clean.
Step 7: Once removed from the oven, let the cake cool completely on a cooling rack. Slice and serve accordingly.