It has been a week since Diwali and my whole week was revolving around outings and celebrations. It was a wholesome festive week for Vinay and me as it was our first Diwali after our wedding. A lunch treat by my father, our naughty toddler niece Kamya's visit to our house, trips to beaches, temples and holy destinations made our week an eventful one.
Most of the time was spent on outings, in other words, there was minimal cooking at home. Nevertheless, that was a much needed break for everybody at home. There was a pause to my online life as well. Now when things have just come back to normal, another huge break awaits this month end, as we will be shifting to a new place and to a new kitchen. A big shift to Shimoga!
The recipes of Food For Joy will be cooked from a new kitchen henceforth. It is a mixture of feelings for me right now, because Udupi, Nitte and Mangalore mean a lot to me. These places have written a lot of stories and incidents into the pages of my life. I've built a lot of good relations with the people here, I've experienced a lot of good and bad.
It is indeed quite hard to leave these places behind and move on to new city. Most importantly, I am close to my father while in Nitte. But yes, on the flip-side a lot of positives add-on. But surely, given a good opportunity and an option, I would do a lot to convince Vinay to come back to Udupi or Mangalore.
To resume, carrot kheer is one of those recipes which tastes different, could be made whenever less time is at hand and also healthy at the same time. Its rich taste, fragrance, texture and color just makes it very special. Carrot Halwa is one sweet that wins hearts. Carrot Kheer is even better and can be relished hot, warm or chilled.
This one is for Diwali. I might be late for this, but here are my best wishes to all of you and most importantly I wish you lead a healthy life. The rest will easily follow.
Creamy Carrot Kheer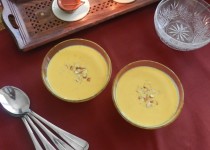 Carrot Kheer is a sweet dish made from cooked and pureed carrots flavored with condensed milk, elaichi and saffron strands.
Prep Time: 5 minutes
Cook time: 15 minutes
Yield: 2-3 Servings
Ingredients:
Instructions:
Step 1: In a pressure cooker, cook the carrots with water until two whistles or till the carrots turn tender. Let this cool.
Step 2: In a blender, blend the cooked carrots to a fine paste along with the water that was used to cook the carrots.
Step 3: In a saucepan, add this pureed mixture and bring it to a boil on a medium heat.
Step 4: Add cardamom powder, sugar, milk, 2 tbsp of grated carrot and bring this to another boil on a medium heat. Keep stirring this mixture.
Step 5: Add in the saffron soaked in milk, mix well. Turn off the heat and garnish with almonds and cashew nuts. Serve warm, hot or chilled.