Food For Joy is two and half month old now, and so is my experience in food photography. I must say the experience has been wonderful till date and I look out for more fun and interesting interactions with all of you. I learnt a lot by sharing my experiences and most from people who came here and gave their bit through comments and suggestions which I love reading through. They make me happy and smile.
My photography sessions sometimes goes into the back-burner when I get lost in a whirlwind of activities. But the moment I see my FIL's old fashioned, vintage, shabby-little-table which I use as a background for most of my photography, I get tempted to pull out my camera.
Vinay craved for something other than raw dough this time, something called Huli Avalakki, and he even recommended this recipe to be photographed and put up on FFJ. I called up my MIL for the recipe and I really loved its simplicity.
With just four main ingredients and some groundnut seasoning, a very subtle snack evolves. This recipe is a beautiful combination of jaggery, tamarind and rasam powder. Personally, to suit my taste-buds I love to have this with thick curd because of its sweet-sour-spicy flavor.
Huli Avalakki (Ground Poha spiced with Tamarind)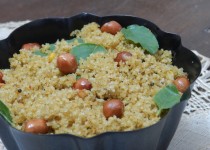 Huli Avalakki, (also known as Gojjavalakki) is a simple mixture of crushed avalakki (Flattened rice), tamarind, jaggery and rasam powder and mainly tempered with groundnuts.
Prep Time: 15 minutes
Cook time: 10 minutes
Yield: 3 Servings
Ingredients:
Instructions:
Step 1: Mash the tamarind that has been soaking in 3/4 cup water and extract all the pulp of tamarind using a strainer. Now you should be having about 3/4 cup of tamarind water.
Step 2: In a wok take the tamarind water and add the jaggery to this mixture.
Step 3: Boil this mixture on a medium flame for 5 minutes.
Step 4: In the mean time, crush the poha (avalakki) in a blender to a coarse powder. Keep this aside.
Step 5: After 5 minutes, once the tamarind and jaggery mixture comes to a boil, add rasam powder.
Step 6: Let this mixture boil well for another five minutes. This mixture would have now reduced to the volume of half a cup.
Step 7: Turn off the heat. Add in the crushed poha to this mixture.
Step 8: Gently fold this mixture using a spoon or your hands so that all the poha (avalakki) has been mixed well with the tamarind-jaggery mixture. Sprinkle some water while folding the entire mixture so that the poha becomes soft. But take care that it doesn't form lumps. Add in the salt. This mixture should be grainy and dry. (You may need to add about 2-3 extra tablespoons of water while mixing.)
Step 9: In a small wok, add the oil and heat it on a medium flame. Add in the un-roasted peanuts. Keep sauteing the peanuts for 5 minutes without burning them. Remove the peanuts and add them to the avalakki (poha)
Step 10: To the same wok and oil, on a medium heat, add in the mustard seeds, wait for them to stop popping. Add in the urad dal, channa dal. Wait for 15 seconds or till the urad dal turns golden brown. Turn of the heat and then throw in the asafetida powder, curry leaves and dry red chillies. Saute for 5 seconds and turn off the heat. Add this to the poha (avalakki) mixture. Sprinkle Dry Coconut. Mix well and serve.