Thambuli (Spiced and tempered Buttermilk) is my personal favorite. During my hostel days in Bangalore I used to crave for thambuli. I could never cook for about 1.5 years during my stay in Bangalore! 8-O I remember making quick salads/raithas with my friends in hostel. That was one way I used to quench my craving for some yoghurt recipe.
If you want to coddle into some spicy buttermilk with rice, may be this dish is an option. I make thambuli whenever I'm reminded of it! :-P
My husband Vinay never craves for any dish. He takes joy with every single dish what his mother or I prepare. The only thing he craves for the most is, raw doughs! Yes you read that right. Whenever I make phulkas, akki rotti, cakes or a deep fried dish, he demands for a bite of the dough/batter. However, I have managed to narrow down his dough-eating habit and I ensure that he is never informed whenever a dough is in the making. ;-)
Doddapatre Thambli (Spiced Buttermilk with Country Borage leaves)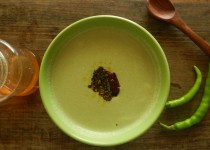 Thambuli is a recipe made from buttermilk, coconut, spiced up with cumin seeds, chillies or pepper corns and tempered with mustard seeds and cumin seeds. If you want to know what I mean by country borage leaves please go through this link
Prep Time: 20 minutes
Yield: 4 servings
Ingredients:
Instructions:
Step 1: Dry roast the country borage leaves in a medium flame for 1 minute in a small frying pan. Keep it aside.
Step 2: Dry roast the cumin seeds in a medium flame for 1 minute in the same pan and keep it aside.
Step 3: In a blender, add coconut, country borage leaves, green chillies, toasted cumin seeds, salt and 3-4 tbsp of buttermilk and blend into a fine paste. You can add some more tablespoons of buttermilk while making the paste.
Step 5: Tranfer this paste to a serving bowl. Mix the remaining buttermilk to this paste.
Step 6: Prepare the seasoning. In a small pan, add vegetable oil on a medium flame. When the oil heats up, add mustard seeds, wait the for the seeds to stop popping. Then add the cumin seeds, dry red chillies and asafetida. Wait for 5 seconds. Turn of the heat and add this to the thambuli.