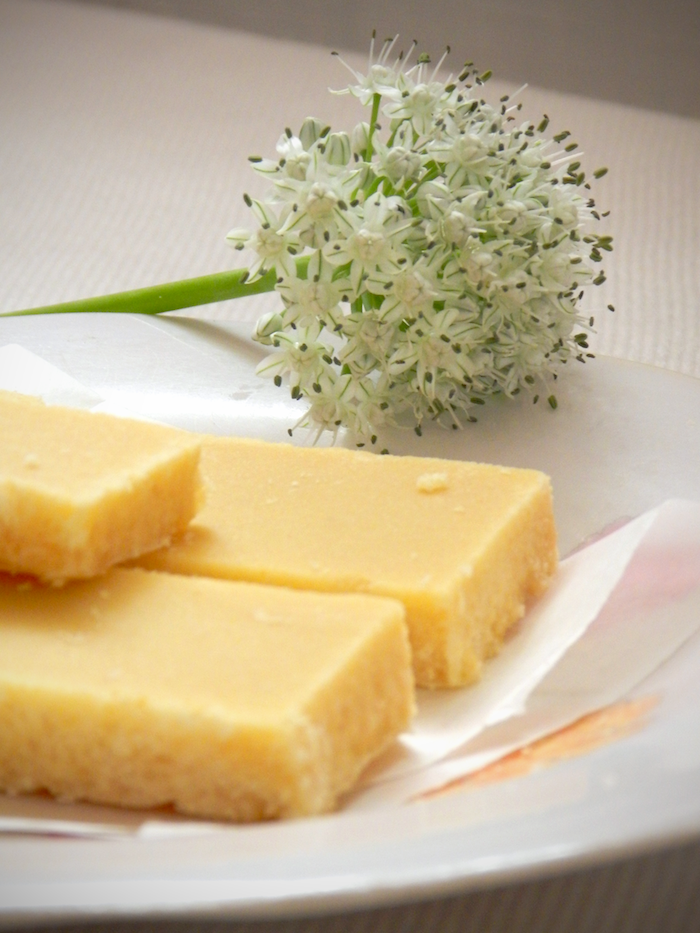 Cooking a fine and a satisfying meal not only confides on the ingredients, but, circumstances and external facets that transpires around the cooking process also have a brunt on the final outcome. Not to forget, the environment of cooking, air, water, the cleanliness of utensils used for cooking and most importantly, the person who is cooking makes a huge difference. From what I have seen and learnt, food made with lot of time in hand, happiness, love, excitement and keeping your loved ones in mind, turns out delicious and satisfies the mind and soul. On the flip side if no positive energy flows in and around the person cooking a meal, it would rather be ruinous. Even if it would do service to the taste buds, it wouldn't assuage the human.
During my recent travels to Udupi, luck took my side as I got to devour the payasam of Krishna Temple. Speaking in the language of a dessert-crazy person, it was a splendid moment for me as it had all those flavours which would soothe my mind. I'm not sure if it is just me or everybody would opine the same. Reproducing the same magic of payasam back in my kitchen is an unfinished task on my list. Such are the instances where it appeals to me, the hands in use while handling food or while cooking up a meal are as important as the recipe itself!
Sweets complete the full circle in our meals, specially for my other half and myself. Having born with a sweet-tooth, I would endorse my speculation which says, Sweets/Desserts can make someone a better person, at-least for a moment!. Ghee, on one hand is a gift to mankind. Ghee / Clarified Butter, when exposed to higher temperatures, never mitigates its original structure unlike the common refined oil. This being an advantage, ghee can be used when cooking takes place at a very high temperature. A day never goes by without a dollop of ghee on our breakfast or meal platters. I wish ghee wasn't as extravagant as it is today and I also wish I was living three generations behind time when ghee was used in every phase of cooking, including deep-frying!
This spellbinding ingredient is a substantial part in most of the Indian sweets. A remarkable discovery in the history of Indian cooking is the "Mysore Pak". Mysore Pak was first discovered 8 decades ago in the royal kitchens of Mysore by a talented cook by name Kakasura Madappa. Kakasura Madappa was asked to come up with a unique sweet dish by the then Mysore King, Nalvadi Krishnaraja Wodeyar.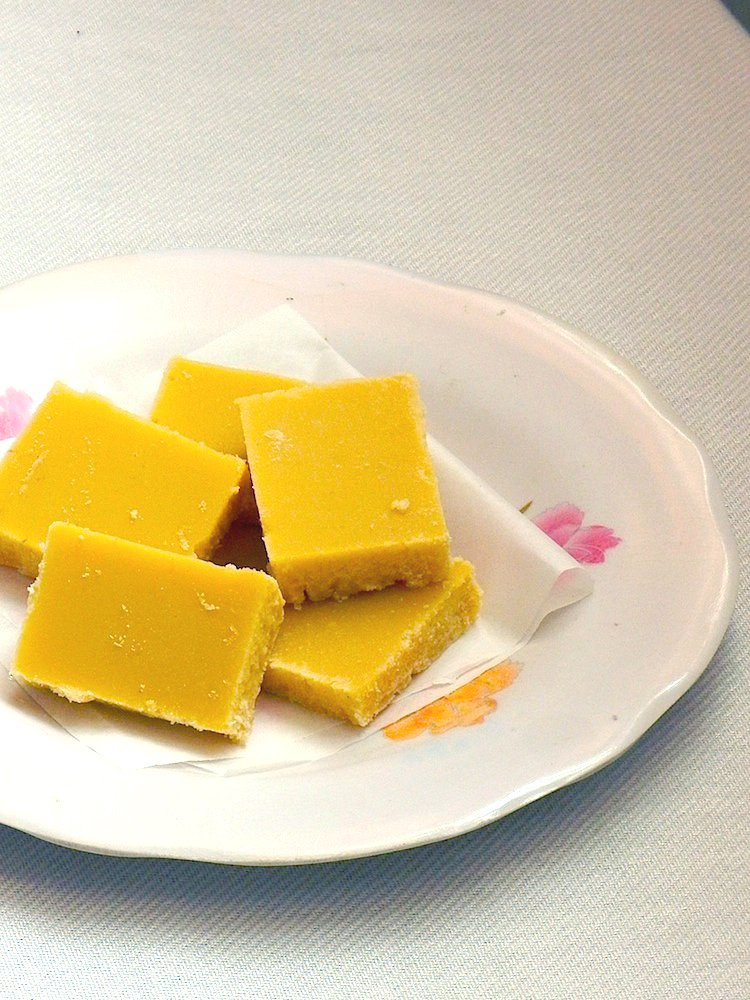 Kakasura Madappa was a professional sweet maker and he usually cooked up sweets using sugar syrup (paka) and he was even named as nalapaka (A person who makes paka). Madappa discovered a sweet using sugar syrup as the base, besan (gram flour) and ghee. He had obviously no name for the sweet when he made the discovery. Impressed with the sweet, the King asked Madappa to set up a shop outside palace grounds that would sell the same to the common people. Madappa named it as "Mysore Pak".
Today, in Mysore, one can find an outlet by name "Guru Sweets" on Sayyaji Rao Road. This shop is managed by Nataraj, who is supposedly the great grandson of Kakasura Madapa and it is the same shop that was set up decades ago by Kakasura Madappa outside palace grounds which, of-course, was later shifted for obvious reasons.
There are umpteen recipes of Mysore Pak today. Each claiming to be a "healthier version" or a "less ghee version" or a "less greasy version". My stance, when it boils down to sweets like these with a strong origin, I'll prefer relaxing all my rules.
Mysore Pak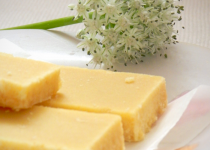 Mysore Pak is a fudge made from chickpea flour or gram flour. Ghee and sugar are the other two major ingredients that form this delectable treat.
Note: Use 1 cup of Ghee to get a very soft, soggy, melt in mouth texture. Use 3/4 cup of Ghee to get a slightly harder texture, which would still have a melt in mouth texture.
Prep Time: 15 minutes
Cook time: 15 minutes
Yield: 15 - 20 pieces
Ingredients:
Instructions:
Before starting, grease a plate with ghee and keep aside.
Step 1: In a wok / kadai add sugar and water and keep it on a low flame and keep stirring the mixture until all the sugar melts.
Step 2: In a another wok / kadai or a thick bottom vessel, heat 1/2 cup of ghee on a very low heat. Once the ghee heats slightly, add in the Chickpea flour and mix. Hold the pan or kadai slightly above the flame so that the flour doesn't burn. Stir the paste like mixture till all the raw odor of the flour disappears. Keep stirring till the room has been filled with an aromatic odor. Turn off the heat and keep this aside.
Step 3: Now check the kadai with the sugar solution. Add milk to this solution. Keep stirring this solution till you get a one string consistency.
Step 4: Now, add the besan and ghee mixture to the sugar solution. (Remember that sugar solution has to have a one string consistency, else you'll not acquire the required texture)
Step 5: Mix well on a low heat. Now add the remaining ghee little by little to the mixture and keep stirring continuously on a low heat.
Step 6: Once all the ghee has been added, keep stirring till you get a frothy, foamy texture. This might take a minute at maximum.
Step 7: Once the mixture turns frothy, immediately tip it into a greased plate and let it cool. When it is just warm, cut into desired shapes. After it cools completely remove the pieces and store in an air tight container.
Note: There are two ways to check the doneness of the mysore pak mixture:
1. Spoon out a bit of the mixture on a plate and see if it sets immediately. If it does, then the mixture is ready to be poured on the greased plate to solidify.
2. Another alternative is to take a drop of mixture and try to make a round shape of it. If you can easily do it, then the mixture has to be poured on a greased plate.