"Is there some bread left in the fridge?" This is what the professor asked me one evening, soon after snacking on a spicy masala papad I had made for him and some fruit. I knew it was a signal waved at me and an attempt to impose an idea into my head to make something out of that left over bread. I raised my eyebrow. He said, "I'm still hungry." I speculated, "What kind of appetite do these men have?" In just a little while, a snack was plated up and given to him. He loved it! :)
I always believe that a dish with very few ingredients can bring out the best. This quick snack made from bread is very simple and requires very few ingredients. A good tempering and a crispy bunch of bread chunks works out well for this dish.
One important ingredient that goes in this snack is jaggery. It is true that many of us do not like the addition of a sweetener to food, but it is really important to add raw sugar or jaggery to preparations that involve the addition of onions and tomatoes. The reason behind this being, tomatoes are sour, and jaggery helps in trimming off the sourness of tomatoes. Not only this, it also helps in adding an additional comfortable flavor to the dish. Of-course, we need to add jaggery in moderation, else the dish might go bad. Alternatively, you can use tomato sauce or sugar. These ingredients can also play the same role as jaggery. But, jaggery is more of a natural sweetener than sugar and tomato sauce.
This snack is a heavy one. We found ourselves not feeling hungry after snacking on this bread. We just ended up having our daily cup of buttermilk by the end of the day.
Spicy Bread Masala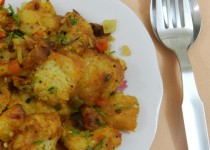 Bread Masala is generally cooked up for an evening snack. Help yourself with a cup of tea and a plate of this dish to make your evening more happier!
Note: You can always go for some additional ingredients for enhanced taste like, green peas, paneer and potato cubes. If you have these ingredients in stock please do add them, these can surely make this snack tastier.
Prep Time: 10 minutes
Cook time: 25 minutes
Yield: 4 servings
Ingredients:
Instructions:
Step 1: In a wok (Kadai), heat 2 tbsp of oil and add in the bread pieces. Stir fry them for 5-7 minutes or till they start browning. Do this on a medium flame. (There is no need for deep frying here. Although deep frying might taste good, it may not prove to be healthy as bread can absorb a lot of oil when it is deep fried. But if you still wish to, then you can try deep frying.)
Step 2: Remove the bread pieces and keep them aside. Now add 1 tbsp of vegetable oil, let it heat and then add in the seasoning i.e. mustard seeds. Wait for the seeds to stop popping, then add urad dal, dry red chillies and curry leaves. Wait for just 5 seconds and then add the onions and green chillies.
Step 3: Stir fry the onions till they start browning and turn transparent. Then add in the tomatoes. Mix well.
Step 4: Add in the red chilli powder, garam masala, turmeric powder, jaggery and salt. Mix well and keep it covered for 5 minutes. After 5 minutes, your mixture will look as follows.
Step 5: Keep stirring this mixture briskly for 5 minutes. You will see the tomatoes getting pureed and blending with the onions. (At this stage you can add in some green peas and roasted paneer as well)
Step 6: Add in the fried bread pieces and mix very well until all the bread pieces are coated with the masala. Garnish with coriander leaves and serve hot.