Baking is one of the most favourite therapeutic activities I swear upon, every time I need a break from the ritual activities of motherhood. To be very candid, the only thing that runs around my mind every day is little Krishna's eating habits, his sleep cycles and his weight gain. When he grows up to be a three year old pre- schooler this year, there would be more aspects to be taken care of. Its so unambiguous as to why a girl becomes more responsible and matured after she becomes a mother.
Being in my thirties now and as my intent has always been to religiously promote whole wheat baking on my blog, I have to profess that its not easy to develop recipes, specially cakes and pastries from whole wheat (atta). When I sit to write down my baking recipes, its a fusion of ideas and flavours waiting to be tried upon. Its only when I test, bake and taste the recipe, I post it on the blog. The taste and texture of the cake is very important since, no one enjoys a very hard and dense textured cake.
I whisked and baked these guilt free blueberry muffins using whole wheat, and when it turned out warm-fluffy from the oven, it left me brightened and contented. Blueberries are hard to find in the local stores of Mandya. While I kept my search on, I zeroed on these frozen blueberries that I found in a dried up and packaged condition in a local store. I could be happy only with this. Some day when I can get my hands on fresh blueberries, I would bake these cupcakes again. The best part of these muffins, is that you just can't stop with one and you can never be guilty too.
I've come across so many mothers who bake to please their young children. But to my fate that seems deliberately contrary, the star of my eyes, little Krishna, hasn't still come to terms with sweets, cookies or pastries and his aversion to sweets still continues till date. Whatever happened to his sweet tooth, I'm still confused about his choices and desires when it comes to food. Being a food writer feels different when you have a toddler who is a pickiest eater.
Eggless Whole Wheat Blueberry Muffins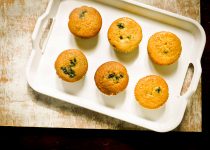 Eggless Whole Wheat Blueberry Muffins are very light, moist and fluffy. These are best to be served as a tea time snack or for breakfast. You can add cinnamon powder to make these extra flavourful. You can also make a buttercream frosting to top these muffins.
Prep Time: 15 minutes
Cook time: 20 minutes
Yield: 9 muffins
Ingredients:
Instructions:
Step 1: Pre - Heat the oven at 170 degrees for ten minutes. In a small bowl, mix warm water, sugar, vanilla essence, lemon juice and keep aside till all the sugar melts.
Step 2: Sift the sift wheat flour, baking soda, baking powder, salt and cornflour. Combine and keep aside.
Step 3: In a another bowl, put in the blueberries. On top of the blueberries add the flour mixture and combine. (This step avoids the berries from sinking to the bottom)
Step 4: To the flour + blueberries bowl, add the water + sugar + vanilla + lemon mixture prepared in step 1. See to it that the sugar has completely melted. Next, add in the olive oil. Mix gently with a whisk.
Step 5: Pour into lined cupcake moulds and bake for 20 minutes.
Step 6: Serve warm or at room temperature with a cup of coffee or tea.