I haven't seen or tasted the Citron Lime until recently when this fruit landed in the fridge! From the past few days I've been finding ways to get hold of Kaffir Lime Leaves to try a vegetarian version of the famous Thai Green Curry.
Eventually I got introduced to Kaffir Lime's family member "Citron Lime". (Herale Kai in Kannada) "This fruit is very rare and very good for health. I got it from Mysore. Make chitranna for him", said my FIL.
I cut it into half and just looked like the normal Sweet Lime and I plunged the tip of a knife to pick out the seeds. The fruit looked very pretty and photogenic. Then, out came the camera to capture all that happened with this tangy fruit. I made this rice for the first time and I loved the flavor it gave to the stir fried rice.
To be honest I'm not inclined towards chitranna (rice-based breakfast dish of South India). But this one is truly a champ. Citron Lime (Herale Kai) is more like a large lemon. It has a very distinctive fragrance and taste, and more tangier than any other citrus fruit. It has very little amount of pulp and juice in it. I made this chitranna for three servings and I had to use half of this fruit. It has a thick outer white rind and the zest of this fruit can be used for flavoring green curries and pies.
In the feudal age Citron Lime was used exorbitantly for medicinal purposes. Disorders related to lungs, intestine and stomach were being healed using this rare fruit. I have kept the seeds aside so that I can try nurturing them with mud and water. We still haven't started rearing plants yet. I am continually postponing this task and I still haven't thought on how to go about planting new saplings.
Just as I accidentally stumbled on this fruit, I just hope that the Kaffir Lime fruit finds me in Shimoga. :) Once I get hold of the seeds, I'm sure I'll sow them to get the lime leaves.
Heralekai Chitranna (Citron Lime Rice)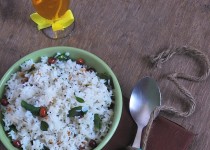 Chitranna is a South Indian tempered rice preparation generally meant for breakfast or lunch.
Ingredients:
Instructions:
Step 1: Wash rice and keep aside. In a pressure cooker add rice and water and let the rice cook. It requires about ten minutes in the pressure cooker. After the cooker cools down, remove the rice and spread the rice over the plate. Keep the rice aside.
Step 2: In a wok add the vegetable oil, let it heat on a medium flame. Roast the peanuts in this oil for 2 minutes. Remove the peanuts and keep it aside. To the same oil add in the mustard seeds, urad dal, channa dal, curry leaves, green chillies, ginger, methi seeds. Let the mustard seeds stop popping. Turn off the heat.
Step 3: Next add in the rice. While adding the rice, see to it that the rice grains do not stick to each other. Let the rice be a little grainy. Squeeze the citron lime juice over the rice and add salt. Fold the rice with gently with a fork to mix the salt. Do not beat the rice else it gets mushy.
Step 4: Add in the roasted peanuts. If you wish, you can even add coriander leaves. Serve hot.