"Stressed" when spelt backwards is "Desserts". Its a well accepted fact that everybody indulge into chocolates and sweets just to kick the states of mind. A sweet treat is always asked for, during a happy occasion, a festival, to express happiness and ensure a good atmosphere at home or may be just to pamper the taste buds. The consumption of sweets has to be moderate enough though.
We are a family of four, and sometimes I end up committing a lot of mistakes whilst preparing food and the taste of the dish eventually tends to go out of my control. My other half is very co-operative when I feel that nothing could be done to save the dish from going wrong. He always comes around to calm me down or help me in arranging utensils and little things, just to make me feel comfortable.
I can foresee a good cook in him, for the fact that he guesses out what went wrong in the dish and he even shares the anxiety of his poor wife when she makes silly mistakes in the kitchen! He hasn't cooked anything major for me yet. He makes good tea and phulkas.
MIL decided to make some moong dal laddus and I pulled out my camera to record the process. It was an easy task for me, as I had to just take pictures without indulging in the process.
Moong dal laddu is a healthy option, as it requires relatively lesser amount of ghee than other laddus. Moong dal has positive nutritional value as it cleanses the body. Moderate amount of ghee consumption gives strength to the body.
I don't think we need to rely on sweets that come from market when such sweets can be made at home with home made ghee.
When it is a festive season, I might consider replicating what my MIL has made here. As we are stationed in a village, people rear cows and everyday fresh milk is served to us. The amount of fresh cream coming from cow's milk surprises me as we used to rely on stored milk back in Udupi. The best part is, we make homemade butter and melt it down to ghee. It is a sense of satisfaction that the ghee in my kitchen is homemade and organic.
Hesaru Unde (Moong Dal Laddu)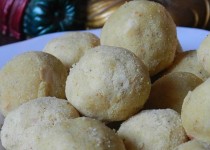 Hesaru Unde is a laddu (round shaped sweet) made from powdered Moong Dal, powdered sugar and ghee. This laddu can be prepared for many festive occasions.
Prep Time: 25 minutes
Cook time: 10 minutes
Yield: 30-34 Laddus
Ingredients:
Instructions:
Step 1: Dry roast the moong dal on a low flame for 10 minutes or until a lovely aroma spreads out.
Step 2: Let the dal cool down. Grind the dal to a fine powder.
Step 3: Once you have ground the dal, sieve the powder. Once you have sieved the powder, some chunky particles of dal will be left over. Grind these leftovers again into a fine powder.
Step 4: Again sieve the ground dal and extract the fine powder. (Repeat steps 2, 3 and 4 until all the dal is ground to a fine powder)
Step 5: Again grind the sieved powder in a mixie. (This is just to ensure the powder is finely ground). Sieve this powder.
Step 6: Grind the sugar as well, into a fine powder. Sieve this as well.
Step 7: Mix the two powders (moong dal and sugar powder) and cardamom powder using your fingers so that all blend well. Set this aside.
Step 8: Roast cashew nuts in 2 tbsp of ghee. Set this aside.
Step 9: Heat about 1/2 cup of ghee till it melts. Keep this aside as well.
Step 10: Now add the cashew nuts to the powder mixture and mix well using your fingers.
Step 11: Add ghee little by little in teaspoons to the powder-mix and make a mixture similar to bread crumbs. This texture will make it easy for you to make the spherical shaped laddus. (Do not add all the ghee at once!)
Step 12: Make spherical laddus from this mixture and serve. These can be stored in refrigerator for about a week. (But I bet these will be emptied in a day or two ;))
Following is a video of my MIL making the laddus.