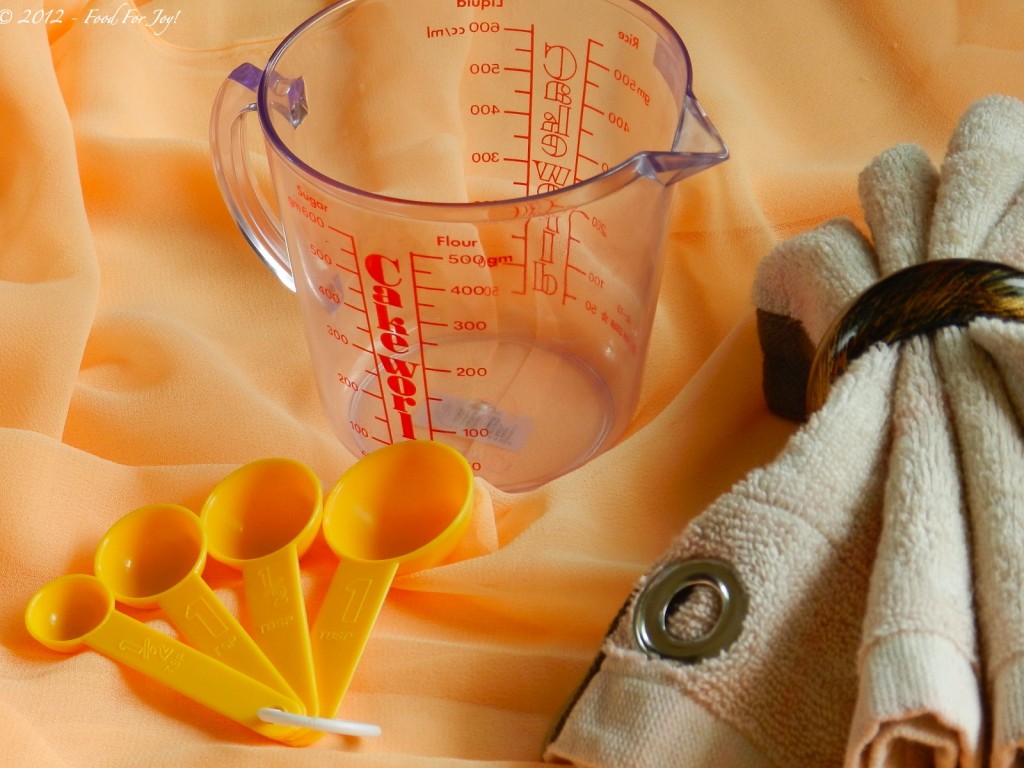 Whenever I happen to talk to my elders and discuss recipes, my questions would be always based on measurements! Unfortunately, our elders measure just by using their hands or it is just as simple as measuring the amount directly by a random spoon or cup. When I used to ask my mother or MIL about how much of cups or spoons they added to the recipe, they used to say, "We never used any measuring aid; we add the quantities just by using our hands.". The recipe always turns out be divine.
We cannot blame them for using hands or random utensils. In fact I'll always admire them for their ways of measuring and it is just amazing to learn some of those few secret tricks they use. But things have changed as generations passed. These days we can reach to various tools that will help us in kitchen. Measuring spoons, measuring cups, handy weighing scales, all these have made our lives in kitchen very easy.
This page is meant for those who need accurate measurements and weights of various ingredients used in my recipes.
It took some time for me to approximate the measures and come to a conclusion regarding the standards that I have followed here. Of course, alternately, you can always search through web to find out about cooking measurements and conversions, but that might baffle you to some extent due to the variations of measurements used in different countries.
Just to inform you, there is no standard set for cooking weights and measures. Each country has its own way of measuring and weighing foodstuffs. Just a simple example: In US, 1 tablespoon = 14.8 ml; In UK, 1 tablespoon = 15 ml; In Australia 1 tablespoon = 20 ml.
But do not be alarmed. After a long homework of approximations, practical measuring and calculations, ;) I came up with this simple little chart that I use for my kitchen ventures. Think it might help you as well. :)
Note: As per the standard, at low volumes, milk approximately measures same as water.
Teaspoon/Tablespoon -> Milliliter (For milk and water)

½ tsp = 2.5 ml/cc
1 tsp = 5 ml/cc
2 tsp = 10 ml/cc
10 tsp = 50 ml/cc

½ tbsp = 7.5 ml/cc
1 tbsp = 15 ml/cc
2 tbsp = 30 ml/cc
10 tbsp = 150 ml/cc

1 tbsp = 3 tsp

Fluid ounce -> Milliliter/Cup (For milk and water)

(Note: Accurately, 1 fl oz = 28.4 ml/cc, but this quantity cannot be measured using a standard measuring cup that's used for cooking, hence I have approximated the value of 1 fl oz to 30 ml/cc)

½ fl oz =15 ml/cc = 1 tbsp
1 fl oz = 30 ml/cc = 2 tbsp
2 fl oz = 60 ml/cc = ¼ cup
4 fl oz = 120 ml/cc = ½ cup
6 fl oz = 180 ml/cc = ¾ cup
8 fl oz = 240 ml/cc = 1 cup (approx.) [Accurately: 1 cup = 250 ml/cc]
10 fl oz = 300 ml/cc
20 fl oz = 600 ml/cc
33.33 fl oz = 34 fl oz (approx.) = 1000 ml/cc = 1 liter

Volume to Mass conversions (For milk and water)

1 ml/cc = 1 gm
30 ml/cc = 30 gm
1 fl oz = 1 oz
20 fl oz = 20 oz

Metric cup measurements for various food items

Water/Milk: 1 cup = 250 ml/cc = 8 fl oz
Sugar: 1 cup = 200 gm
Raw Rice: 1 cup = 200 gm
Wheat Flour: 1 cup = 120 gm
Maida (All purpose flour): 1 cup = 150 gm