Dreams! Did you ever have a small dream when you were little? Do you still have that dream nurtured in your thoughts, or maybe in your hearts?
I still do! I do have dreams that are so little and nurtured, so very old dreams, childhood dreams, which has nothing to do related to what I am doing today. Painting a life of your choice is tough. We dream of something, we think about something, we fantasise a lot about our lives being this and that. In reality, we are doing a lot of other things, dealing with matters, which are so real and less fantasising or appealing.
You sometimes even don't know where you are going, owing to the whirlwind of activities you are stuck in. You aren't alone anymore, you are a father/mother, a wife/husband, a daughter/son to someone. You have responsibilities and you have someone depending on you.
This is life! This is how everyone lives after childhood and adulthood is over. This is the taste of real life. Don't let the child in you stop dreaming, that was nurturing itself when you were so young. The childhood dreams that the child in you had, deserves to be kept alive. But don't let go of small dreams that used to dwell in the corner of your heart. Slow down and learn to enjoy the slow life too!
Eggless Apple Cinnamon Muffins made with Almond meal and Whole Wheat Pastry Flour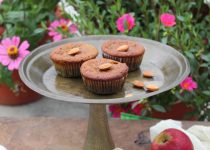 These muffins are extra soft and airy unlike any other wheat based bakes. You need to wait for the muffins to come to a warm state before delving into these. Best when served with Tea or Coffee!
Prep Time: 30 minutes
Cook time: 30 minutes
Ingredients:
Instructions:
Step 1: Line your cupcake moulds, with liners.
Step 2: In a mixing bowl, add the whole wheat pastry flour (You can also use whole wheat flour as well.) Next, add the cinnamon powder and almond flour. (For the almond flour you need to pulse a cup of almonds in a small blender in small pulses and scoop a cup of this powder.)
Step 3: In another bowl, make a mix of vegetable oil, curd and vanilla essence.
Step 4: Add the chopped apples to the dry mixture bowl.
Step 5: Add the Jaggery (Brown Sugar), wet (Oil and Curd mix), and milk little by little to form a batter.
Step 6: Fill up the cupcake liners up till half. Sprinkle some cinnamon sugar on top. Bake for 30 minutes at 170 degree centigrade. To make the cinnamon sugar, mix a teaspoon of cinnamon powder with a table spoon of sugar.