In my previous post I've been writing words of adoration about the new place we're living in. As someone has rightly pointed, "A village is an ideal place to practice photography".
Now that I have two free hands for the next few days, I'm constantly clicking various things, creatures and objects around me, but I haven't successfully clicked photographs of people around me. The people in my neighborhood have got a different charm on their faces. They look thin and frail to the eyes, though they're physically tough and strong.
Everyday is a learning here for us. We get to see the world through a poor man's eyes. On the other hand, this city is a rich resource for fresh vegetable shopping. I was floored by the sight of the vegetable market which I used to miss when I was in Udupi / Nitte.
Baby bitter gourds were being sold fresh and my better half picked up a lot of them. These look scary to the eyes and taste exorbitantly bitter, but let me tell you, this vegetable has wider benefits.
It is a natural relief for diabetics and people who eat a lot of rice or consume to much of carbohydrates in any form. Bitter gourd stimulates the pancreas and allows only required amount of glucose to get into the blood. I have even heard people eating raw bitter gourd. Eating too much of bitter gourd is not ideal as well.
My MIL makes a chutney out of this bitter goodness and its always in stock in our refrigerator. I remember mother used to make this chutney with or without bitter gourd. Either ways its fun to eat this chutney during lunch with curd rice. Bitter, sweet, sour and spice blends together in this preparation.
Hagalkai Gojju (Bitter Gourd Chutney)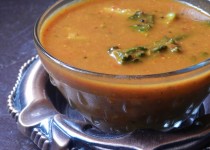 Hagalkai Gojju is a preparation from bitter gourd, jaggery, tamarind with the main ingredients. This is mainly eaten for adding extra flavor to curd rice, dosas, chapatis, spicy pongal or idlis.
Note: In case of diabetics, you may skip the jaggery in this recipe.
Prep Time: 5 minutes
Cook time: 35 minutes
Yield: 6-7 servings
Ingredients:
Instructions:
Step 1: In a wok, dry roast dry red chillies and urad dal on a medium flame for 1 minute or until an aroma is released. Set this aside to cool.
Step 2: To the same wok in a low flame add sesame seeds and dry roast just for 5 seconds. Set this aside.
Step 3: Grind these roasted ingredients, i.e. dry red chillies, sesame seeds, urad dal along with coconut to a fine paste by adding 1/4 cup of water.
Step 4: In the same wok, add the vegetable oil, once the oil heats up add in mustard seeds. Wait for the seeds to stop popping. Then add urad dal, curry leaves.
Step 5: Add in the chopped bittergourd, and stir fry the pieces for 10 minutes on a medium flame.
Step 6: Extract the pulp from the soaked tamarind and add this to the stir fried bitter gourd. Let the bitter gourd cook in this water on a medium flame for 15-20 minutes.
Step 7: After the bitter gourd pieces get cooked, add in the ground masala paste, jaggery and salt. Mix well. Serve hot.